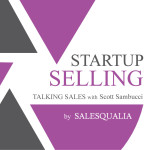 "Startup Selling: Talking Sales with Scott Sambucci" is the only podcast produced for startup CEOs. We discuss startup selling strategies from a practical and tactical viewpoint.
Subscribe to The Sales Podcast on iTunes now!
PODCAST EPISODES:
Ep. 56: The Process is the Process: A Daily Dose Edition
Ep. 55: When & How to Use Cold-Calling, Partnership Programs & Vetting Your Sales Hires: Live Sales Q&A
Ep. 54: Acquire, Activate & Accelerate Your Digital Marketing Leads – An Interview with Howard Kingston
Ep. 53: You Are Not Alone – Why We Do This, with Scott Sambucci
Ep. 52: Amplifying Revenue With Go-To-Market Operations: An Interview with Culture Amp's Andy Mowat
Ep. 51: Simple Actions to Increase Your Sales Pull-Through: An Interview with Selling Boldly Author, Alex Goldfayn
Ep. 50 – For Sales Leaders: Ideas to Help Your Sales Team Be More Productive
Ep. 49: Building Your Channel Partnerships The Right Way with Matthew Harrell – Google's Head of Cloud Channel Business
Ep. 48: Head, Heart & Gut: Building an Entrepreneurial Organization – An Interview with Shannon Waller
Ep. 47: From Users to Customers in 3 months & Startup to the Inc 5000 in 3 years: An Interview with Cirrus Insight Co-Founder Brandon Bruce.
Ep. 46: Pattern Interrupts, Personas vs Titles and Warm Calls: An Interview with SDRemote Co-Founder Niko Hughes
Ep. 45: Company Culture, Experiential Incentives & the Backward-Bending Labor Supply Curve: An Interview with Disco Co- Founder Justin Vandehey
Ep. 44: Post-Sale Product Adoption & Usage, Tribal Cultures & Success Metrics: An Interview with Xan Gentile, Head of Account Management at Blend
Ep. 43: An interview with David Dulany The CEO and Founder of Tenbound and The Sales Development Conference
Ep. 42: The Selling Process vs The Buying Process in the Enterprise Sale: An Interview with PatientPing's Head of Growth, Brian Manning
Ep. 41: Lessons Learned from Raising $100M, Interviewing over 1000 Sales People and carrying a $25M Quota: An Interview with Kris "Speedhunter" Duggan
Ep. 40: Financial Literacy for Startup CEOs: Buy-Sell Agreements, Key-Man Insurance, IULs & More: An Interview with Tim Phebus from WealthWave
Ep: 39: Sales Hiring: How to Find & Screen Your Next Sales Team Hire – An Interview with Wayne Herring
Ep. 38: Sales Compensation – Buying Persuasion Labor, The Cost of Selling & Paying Market Makers for your Startup: An Interview with David Cichelli
Ep. 37: How to Add Video to Your Sales Arsenal – An Interview with Stacy McKenzie
Ep 36: Outside Sales – Recommendations To Startup Founders On How To Structure Outside Sales with Steven Benson
Ep. 35: The ONE Sales Activity In Your Company That Matters Most with Scott Sambucci
Ep. 34: What is Customer Success and Why is it Important?: An interview with John Roberts
Ep. 33: The Right Way to Set up your Partnership, Reseller & Affiliate Strategy: An Interview with Jen Spencer
Ep. 32: The Cardinal Rules of Cold Emailing with Damian Thompson
Ep. 31: What's Your Box of Awesome? An Interview with Dan Waldschmidt
Ep. 30: Predictable Prospecting: Target, Engage & Optimize Your Sales Funnel, and Why Introverts are the Best SalesPeople: An Interview with Marylou Tyler
Ep. 29: Who to Hire and How and When to Scale Up Your Sales Team: An Interview with Dionne Mischler
Ep. 28: Converting Free Trials, Soft Contracts & Why Sales Prospects Love Video: An Interview with Showpad's Louis Jonckheere
Ep. 27: Hiring Incarcerated Women & Acting "As If" In Your Sales Calls: An Interview with Factor 8's Lauren Bailey
Ep. 26: Working on Your Genius by Outsourcing Company Tasks & Hiring Virtual Assistants: An interview with Mia Paulus
Ep. 25: Content Selling vs Content Marketing, The Amway Hack for Webinars & Value-Based Pricing: An interview with Christien Louviere
Ep. 24: Selling a $40,000,000 Gulfstream Online, Negotiating with Vendors & Surviving Cancer: An Interview with Gina Danford
Ep. 23: Capital-Raising, Avoiding "Legal Debt" & Going From Idea to MVP: An interview with Chris Combs
Ep. 22: Customer Success, Time to First Value & Finding Your Customer's "Appropriate Experience": An interview with Lincoln Murphy
Ep. 21: Product Demos the Right Way, & Avoiding the "IKEA Demo:" An Interview with Peter Cohan
Ep.20: Price Intelligently: How Your Pricing Strategy is Killing Your Business. An Interview with Patrick Campbell.
Ep.19: Sales Development Strategies with Trish Bertuzzi: The 40-second interview, Building a Beachhead & Being Direct with Customers
Ep.18: Do you know what your Revenue Acquisition Portfolio looks like?
Ep.17: Box.com's Melanie Wong on Prospecting for Big Customers,  the 7-Touch Rule & Working with Aaron Levie
Ep.16: The 10-Day Sales Call Challenge
Ep.15: Selling to the 2017 Budget Right Now!
Ep.14: 10 Things To Do During the Holidays for a Better 2016, Pt.2
Ep.13: 10 Things To Do During the Holidays for a Better 2016, Pt.1
Ep.12: Identifying Early Adopters and Their Pain Points featuring Sean Murphy
Ep.10: Continuous Improvement on the Sales Process feat. Mark Graban & Greg Jacobson
Ep.9: Hiring Your First Salesperson (or three…)
Ep.8: Implementation Planning as a Sales Tool
Ep.7: Burning Sales Questions, Pt.2
Ep.6: Burning Sales Questions, Pt.1
Ep.5: Setting Up Pilot Program
Ep.3: Preparing for Your First Meeting with a New Prospect
Ep.1: Startup Selling with Conference Escorts
A few startup selling topics we've covered:
Setting up sales meetings and executing a sales plan at an industry conference.
Prospecting on LinkedIn.
How to successfully prepare for a sales meeting and product demo.
Vetting out true prospects versus those that'll just waste your time.
Identifying stages of the sales and advances in the sales process.
Tips for following up with your prospects after a sales call or in-person meeting.
Using implementation and technical integrations plans as part of your sales process.
Every podcast includes show notes and links to reference material so you can grow your learning about sales and selling.
Subscribe to The Sales Podcast on iTunes now!
Want to be a guest on The Startup Selling podcast?
Want to contribute to the Startup Selling movement? Or just want us to take a crack at your burning startup selling questions.  Great!
Just pick a time on our production schedule and our magic elves will take care of the rest!