Nov
11, 2016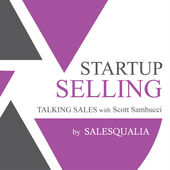 Ep. 26: Working on Your Genius by Outsourcing Company Tasks & Hiring Virtual Assistants: An interview with Mia Paulus
Mia Paulus is the Founder & CEO of The Admin Center. I've worked with Mia over the years and The Admin Center is a critical part of my company's success and ability to scale. Mia and her teams work with their companies large and small by providing virtual receptionist, bookkeeping, customer support, marketing, social media and almost any else you can think of…
This podcast is just a little bit different… While it's the typical interview style, this interview was part of my Tuesday Training Series offered exclusively to my Startup Selling Coaching Program clients. Let me explain… Each month, I choose a topic on which to do a deep dive in content and training for my clients. This interview was part of several trainings related to "Recruiting, Hiring and Managing Your Sales Team" – a six-part Tuesday Training block.
Because I believe outsourcing and scaling your business is so important, I decided to share this training module with you on the podcast.
Listen to the podcast here:
Websites & Resources mentioned in the podcast:
The Admin Center: www.theadmincenter.net
Find Mia Paulus across the interwebs here:
LinkedIn: www.linkedin.com/in/mia-paulus-26459a13
Facebook: www.facebook.com/TheAdminCenter
Email: [email protected]
Phone: (208) 639-1597
Definitely take Mia up on her offer to talk about what projects you might be able to outsource to help your company grow.
Mia and her team are based in Boise, ID. If you've tried to outsource or hire VAs aboard, you know what a huge pain it can be to manage overseas teams because of language, cultural and time zone differences.