Aug
10, 2021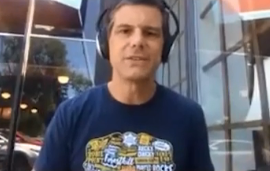 Ask For Help – A Startup Selling Lesson from the Trail
So many times as entrepreneurs we've got this mindset ???? where we're undaunted and we go out there and do things on our own. 
That's one of the things that make you an entrepreneur. ???? 
You're cut ✂️ from a different cloth. 
But to really execute on the mission and vision of your company – you are going to need help. ????‍♂️
I remember preparing for the ultramarathon…
My wife gave a ton of help over the months and years where she would support me in my trainings. ????️
The time and the effort that goes into these things, she would be right there running crew and sleeping ???? in the back of a pickup truck waiting for me to show up at some aid station at midnight. 
Then she'd be waiting for me to show up at the finish line at five o'clock in the morning. That's help from my immediate team, my wife and my son because I'm asking for their help. 
But asking for help also means reaching out to ask for help from outside people. 
People that are not immediate to you so you can get to the outcome that you want to get to. 
Lesson from the trail. 
Check out the podcast here:
https://salesqualia.com/daily-dose-post-race-part-2-startups-are-ultramarathons-lessons-from-the-trail/