Jun
28, 2019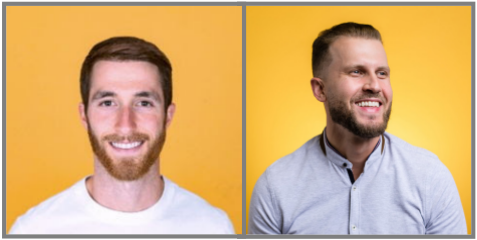 Episode 61: Using Podcasts In Your Sales & Marketing with BeMyGuest's Erik Jacobson & Jonathan Barshop
In today's podcast, we have with us Erik Jacobson and Jonathan Barshop with BeMyGuest.
Erik Jacobson spent three years learning how the podcasting system works and what impact it can have on your business, while Jonathan Barshop fell in love with podcasting after listening to an episode from Tim Ferriss show: Focus on your obsessions.
BeMyGuest is a Podcast company that books Founders and CEOs on podcast tours, creates original podcasts for brands looking to build authority in their market and partners with internal communications teams to create private podcasts.
Today's episode is all about how to use podcasts in your startup's sales and marketing as a way to market yourself as an entrepreneur and target a wide audience.
A couple of key topics that we discussed in today's conversation with Jonathan and Erik are:
Why every startup Founder show become a podcast guest on shows that reach their target market.
How to approach and become a guest on podcasts.
The steps in starting your very own podcast, how to generate topics and the technology tools you need to get started.
Ways to leverage your podcast in a way to share your expertise, show your authority voice and as a result, bring good leads to your company.
How to identify guests for your podcast show.
Show Notes

BeMyGuest: www.bemyguest.fm
Erik Jacobson: www.linkedin.com/in/erik-jacobson-78811b54
Jonathan Barshop: www.linkedin.com/in/jonathan-barshop
Podcast Episode with Jonathan: www.choosefi.com/podcast-episodes
Masters of Scale : mastersofscale.com
The Tim Ferriss Show: tim.blog/podcast
The Tim Ferriss Show episode #145 – The Interview Master: Cal Fussman and the Power of Listening: tim.blog/2016/03/11/the-interview-master-cal-fussman-and-the-power-of-listening
About The Hero's Journey: en.wikipedia.org/wiki/Hero%27s_journey
Listen & Subscribe to The Startup Selling Show here:
Stitcher | Spotify | iTunes | Soundcloud | SalesQualia.com

Plus, whenever you're ready, here are 3 ways I can help you grow your startup…
1. Grab a free copy of my book
It explains the core selling strategies that EVERY startup needs to sell, if you really, really have to and don't know how… Click Here
2. Join me on my monthly LIVE Sales Q&A
Every month, I tackle YOUR sales questions on anything and everything sales – Prospecting, Pipeline, Sales Metrics, Buyer Behavior and more… Click here to save your spot and send me your toughest sales question.
3. Work with me and my team privately
If you'd like to work directly with me to take your company from Start Up to Ramp Up to Scale Up, just reply to this message, put "Private" in the subject line, and tell me a little about your business and what you'd like to work on together, and I'll get you the details!
Thanks so much for listening! Tell a friend or ten about The Startup Selling Show, and please leave a review wherever you're listening to the show.