Apr
08, 2020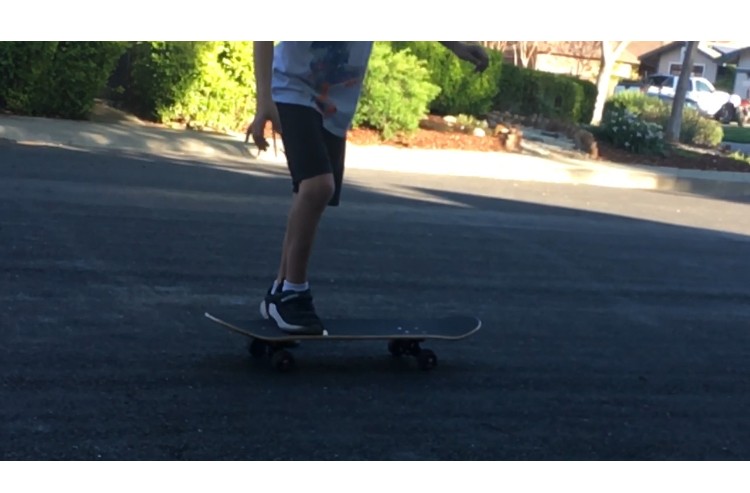 Taking the long view
I write a lot about sales and startups and making relentless forward progress. I run ultramarathons, and it might seem that I have an unending energy reserve that keeps me going.

Fact is, I get tired and frustrated just like everyone else. I've been running at a crazy pace since early March – awake early every day, balancing work and homeschooling throughout the day and staying up late to catch up every night.

We had a team meeting on Friday. It was the end of week 3 of this global madness, and I could tell that everyone was feeling it.

I shared with the team that one of the hardest parts about this situation is that we don't really know when it will end. We know that schools are closed for the rest of the year, but what about summer camps? How far behind will the kids be in their learning? How soon before we get back to our work routines?

When can we go back to our favorite coffee shop? Will it even be there when we can? When can our kids go to a birthday party? When can we have friends over dinner? It's all uncertain and ambiguous, and as humans, we hate that.

After three weeks of craziness, I decided I'd had enough. Whether we're living in a COVID world or not… whether we're trying to adapt to our kids at home or not…. whether we're running a startup or not… trying to keep this crazy pace is unsustainable and unhealthy.

I spent a good chunk of Sunday resetting myself around all that's happening in the world, in my life, and how I run my business. I thought about how to focus on my family and myself, our clients and my business. None of us can control what happens around us or to us, but we can control how we respond to those external factors, and I've decided to take the long view on everything I'm doing.

I've been exercising every day over these past three weeks to keep myself sane, even if it's just a 20-minute garage workout while my son skateboards. But on Sunday, I pushed myself out the door for a 10-mile training run in a cold, driving rain even though I'm not training for a race right now because The Western States 100 got canceled two weeks ago. My Sunday run was a mental workout more than a physical one – knowing that I will be training for a race sometime soon – it was taking the long view. I felt a sense of freedom and accomplishment in knocking it out.

In the afternoon, I built out a project plan for my company for the next three months and began implementing right away. I thought through what we'll do by the end of the year and why I was excited right now and for what's ahead. It was fun to think forward, to remove myself from the reactivity of the last few weeks, however necessary that reactivity may have been.

Yes, there are stresses and strains every day, but whether we're living in this COVID world or not, I signed up for these stresses and strains when I left Blend four and a half years ago. This is the journey I chose as an entrepreneur – to persevere in both the good times and challenging ones.

For the past five or six years, the first hour of my day usually begins at 5am. I brew coffee, write Morning Pages, then meditate. Except in these past few weeks. This past month is the longest stretch I've gone without a single meditation session. I've been skipping them to snag those extra 15 minutes to jump into the office and check messages, or work on whatever work project needs attention before the rest of the house wakes up.

My sleep the past week has been pretty crappy, partly because I'm burning the midnight oil every night while keeping to my 5am alarm every morning. Even on the weekends when I permit myself to sleep in without an alarm, I've had a hard time getting to sleep and staying asleep, waking up throughout the night thinking about work and home and life.

This week, I decided to start meditating each morning and going to bed at 9pm. Today is day three and maybe it's confirmation bias, but I'm already feeling more calm and patient when my son refuses to work on the math problems I assign and I've slept more soundly these past few days.

This morning, I'm writing this post. Writing brings me joy, and good writing requires the discipline to write every day. While I've churned out short blog posts and LinkedIn videos these past few weeks, I've avoided longer articles and essays like this one, partly because of my decision to jump right into work and partly because I didn't give myself permission to take the time to do it.

These past two days have been different. I could be checking Slack, preparing for coaching calls or sending emails to prospective clients. Instead, I'm writing because I know I'll get that other work done regardless. Right now is my time to write and that I can wait another hour to start work. If I let the impermanence linger, the temporary becomes permanent.

Like every other parent out there, my wife and I are sharing homeschooling duties, or at least the illusion of homeschooling. We're spending more time with our son because he's home all day now, and like everyone else, we have good days and bad days, good hours and bad hours. Funny thing is that while the days seem long, the weeks fly by. It's been a reminder that time waits for no one and a reminder to appreciate this gift of time with him.

Last week, my son and I did an egg drop for a science project in the morning. Last night we walked a half a mile to the local grocery store to buy a stash of cookies. (Don't worry – he stayed outside on the sidewalk…) On the way home we took the long way. Four weeks ago, I wouldn't have taken the time to do either, and now I'm happy to do both.

In a normal world, I would keep every call and meeting. Over the past few weeks, I've learned to cancel calls and postpone podcasts that can wait. Last week I moved a client call because I'd been on the phone all morning, it was close to 1pm, and my son needed lunch. Four weeks ago, he would have been at school and I would have done that call. Not this time.

My son is eight now, so we've got ten years left to spend time together every day. Even with the frustration of math problems, even with the tantrums, even with smart-ass replies (which is better than getting no reply when he ignores me for the tenth time I ask him what he wants for lunch…), this is time together that we wouldn't have had otherwise and won't have again.

He's a pretty rough-and-tumble kid. His life right now centers around skateboarding and dreaming of going to Woodward Skatepark in Pennsylvania. He's a tough nut to crack when it comes to anything resembling affection right now. He thinks kissing is gross.

This week's been different. He gave me a hug in the morning. Twice. We took two walks together and just talked, mostly about skateboarding. We played in the street after dinner on Sunday night, bouncing a rubber ball back and forth to each other. He held my hand walking downstairs to go make dinner. Sitting on the couch watching Mythbusters, he shared a blanket and rested his head on my shoulder. He gave me another hug before bed. That's three nights in a row. Score.

I started this post yesterday, finishing today because he came into the office yesterday morning. We talked about our dreams from the night before. Then he let one of the cats into the office so we could hang out together. It was 7:09am and time to make breakfast, so this post had to wait.

A couple of weeks ago, I would have found a reason to keep writing – convincing him to read a book while I finished this post. Not now. Whether I got this post out yesterday or today doesn't really matter in the long run. It's the process of writing that matters. 

I know every day for everyone is hard. The uncertainty of the world sucks. The instability of running a startup is unsettling. Even when you tell yourself that it's a test of mettle, it's tiring and draining. There's never enough time to work through your to-do list, or even to make a to-do list. It's okay. Is it really that much different than before?