Jun
23, 2012
Startup Sales Circle – Meetup Group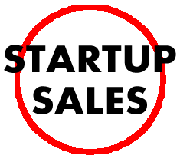 Yep – it's official. We're now the official organizers of the Startup Sales Circle Meetup Group.
What to expect in the coming months:
An actual meetup with real people and speakers.

Regular iterations of #1.

Live webcasts & recordings of #1.

Virtual meetups via webinars and webcasts for those that can't always make it to the live events.


Ongoing sales tips and communication to group members.

And more – the idea machine is cranking right now.
Stay tuned for more.