Mar
13, 2015
Sales Tip of the Day: Never travel for just one meeting
As we walked up to the building, I turned to the account manager and said – "Wow. There are a lot of people coming out of the building right now. Must be a break from a conference or meeting or something."
We worked through the crowd streaming out to the front door.
"Where are you going?" the security guard asked.
"In the building," we replied.
"No you're not. Fire drill."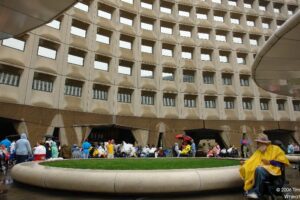 It was early January in Washington DC, no more than 25 degrees outside. I had flown cross-country the day before from Sacramento for a meeting with the Chief Risk Officer of Ginnie Mae – the only reason I had flown across the country. One meeting for one hour that the account manager had been working on for a couple of months. Now, we were standing outside of the HUD/FHA building at 10:15 with the entire building, thousands of people, pouring onto the sidewalks.
Hmmmm… Not exactly the best idea to fly cross-country for a single meeting with no back up plans. Lesson learned. Never fly across the country. You'd think that one lesson was enough…
Last month, after spending two weeks preparing for a meeting and flying to Dallas, I got this email: "Sorry to cancel at the last minute.  Can we reschedule for the first week of March?"
Fool me once, shame on you. Fool me twice, shame on me. Lesson learned. Again. Never travel for just one meeting.
Caveat: Unless you're really, really sure that the meeting is going to happen no matter what. And even then, heed caution and have back-up plans..
A couple of strategies for this:
Keep an Evernote file with a list of contacts in each major metro where I travel – New York, Washington DC, Dallas, Los Angeles, Chicago.
Use LinkedIn to search your contacts by metro area and save the lists. This is an easy way to power through a list of contacts and send them notes about your travel.
Visit past customers, even if they are from former jobs and companies where you've worked, especially if they were happy customers. You never know who they know, and you never know when you'll need their help for a reference.
Visit previous colleagues you haven't seen in a while.
Meet journalists and bloggers from your industry. They're always looking for good contacts, ideas, and scoop.
Meet with your competitors or your competitor's talent. Always be recruiting, even if your not. The right person could really move your business. And you never know who they know is looking for a new job.
It's okay to be non-committal to a specific time. Your primary focus is your customer or prospect. I usually say something like – "My main focus is a customer meeting on Tuesday morning. Not sure how long it'll run, but if it ends early how about we meet up for lunch or afternoon coffee?"