Oct
22, 2021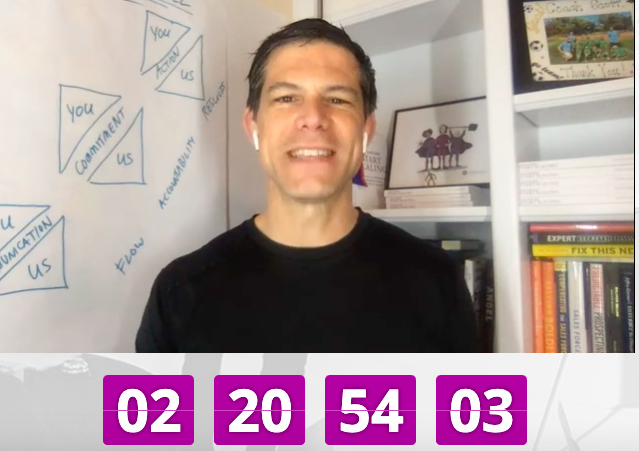 Sales Masterclass exclusively for B2B startup founders & CEOs
Every scalable startup is simply an organized set of processes working together, with a high-functioning team running and improving those processes every day.
Most of all, when we have our sales process working, we get the CLARITY, CONTROL, and CONFIDENCE we want to make the IMPACT with your company for your customers.
Whether you're just trying to break out "hustle mode" to nail down your first $1MM in ARR, you're already on the path to bigger leaps – $3MM or $10MM or more – having a repeatable, scalable sales process is a requirement to supporting every company's growth.
If you're a B2B startup founder or CEO, and you'd like some help with this, I've got you…
On Monday, I'm teaching a Sales Masterclass exclusively for B2B startup founders & CEOs. Click here to register.
You'll learn the key selling systems that every B2B startup must implement to grow and scale.
AND
We'll run a real-time diagnostic of your sales process right now so you know where to focus your system-building over the next six weeks.
When we finish class together, you will be able to:
Identify the 9 Sales Accelerators that your startup needs to build and implement to achieve predictable, repeatable, scalable sales in the next 12 months.
Implement on tactical strategies for the key parts of your sales process – Outbound, Demos, Proposals, and Pricing.
How to book more meetings…
How to avoid dead-end demos…
How to avoid prospects going dark…
How to charge the premium price you deserve to charge for the value you're creating for your customers.
Map out your Sales Team Hiring Plan – who and when to hire your SDRs, AEs, CS team – so that you can scale your startup.
By the time we wrap up the day, you will know EXACTLY where to focus in the next 6 weeks and how to achieve scalable growth for your startup over the next 12, 24, and 36 months.
As of this morning, we have 7 seats remaining.
Yes, really.
Why?
Because this isn't some lecture where people log on, then spend the time checking email, taking calls, and hoping to find a nugget of info that might be helpful…
This is an interactive learning experience.
I cap my classes to keep the group small – expect personal help from me and the other founders in the group.
I expect you to be focused the entire time, ask questions and help others in the group learn just as much as you're learning for yourself.
Remember: None of us are smarter than all of us.
I run EVERY class, coaching call, and work session by the 100% Rule –
You'll always get 100% of my 50%. For you to learn and grow, you'll need to give 100% of your 50%.
That's when the magic happens.
Let's do this, shall we?
Register for the Fall Sales Masterclass.
-Scott