Jan
06, 2023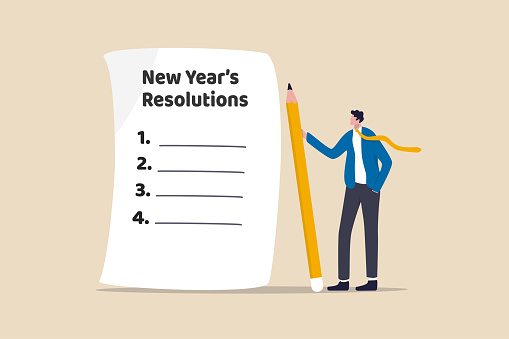 Resolutions vs Resolve
I've never been much for New Year's Resolutions. 
If a decision, action, or outcome was important enough, why would I wait to start? And why would I choose an arbitrary date that happens to be January 1st as that starting point?
Last year might have been a tough year, a tired year, a taxing year.
Add to it the collective weight of these past three years – COVID, social unrest, elections and an insurrection, an insane war, rising inflation, and falling valuations – all shock the system to make it even harder to achieve our mission and build towards our vision for our companies.
It's enough to make you question why we're doing this.
I admit – I cheated my own rules a little too much last year, especially the last few months…
… Spending a little less time writing, exercising and sleeping, and spending a little too much time on early-morning Zoom calls, working on the weekends, and lamenting about what I could have done differently…  
Breaking my rules just isn't my way. 
Instead of resolutions, I prefer resolve – the determination to make a change that is driven by my values and motivations. Personal resolve isn't  based on external pressures or expectations, but instead on our own desire to improve ourselves.
While I took the holidays to rest and recharge – like an aid station in an ultramarathon – I also know that resting isn't stopping. When I was racing ultras, the aid stations were never a stopping point along a 100-mile race – they were a place to reset and get ready for the next stretch of trail. 
It's the same with our businesses – they don't stop when we take a break, and burn rates don't stop either. Constant changes to your market, your customers and your competitors don't stop either.
Life happens. Business happens. But it doesn't mean we've stopped, right?
And if we're not careful, that top priority we said we'd get to in January gets swallowed up by the day-to-day minutiae all over again. 
Then January becomes February. 
February becomes March.  
Q1 becomes Q2. 
Q2 becomes Q-Never.
Part of being a leader is charting our course ahead even when we might be feeling some drag and resistance. 
When it comes to sales and growth in 2023, Q1 decides your year.  Your sales pipeline by March will tell you how your year will end up. 
If you're looking to break through the magic $1mm ARR, or make the next jumps to $3mm, $10mm or more, let's get a rock solid plan in place for you and your startup now, a plan with –
1/ CLARITY on what systems to build and repeatable processes to implement, which selling skills to acquire, and who to hire this year.  
2/ CONTROL over hitting our targets, objectives and key results next year.
3/ CONFIDENCE so we can take the actions we need to take, leverage our personal resolve to make this year the year we want it to be.