Oct
26, 2012
HBR Article: Plan Your Sales Strategy
Dad used to tell me – "Make a list. If you make a list, you won't forget anything." Makes sense at the grocery store and during your sales calls – that's the basis behind the SalesQualia Sales Mapping workshop.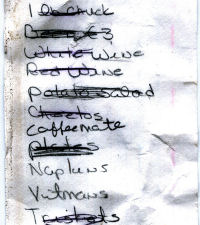 Today in his HBR article "Plan Your Sales Strategy," Steve W. Martin wrote:
In my win-loss analysis interviews with more than a thousand key decision makers about what determines success or failure in sales, I routinely ask at what point in the sales cycle the salesperson actually lost the deal. The most frequently mentioned response is during a sales call.

Customers will have one of five different reactions to everything you say during a sales call…
This is exactly why developing a sales call map is so crucial to your sales process. Based on experience in previous calls, you must develop an outcome tree for each possible response to your questions during the call. By developing this plan ahead of time, you can focus on the the conversation and reading the prospect's intention and emotions instead of thinking ahead to what you will say next.
Looking for a sales edge? Check out: "Startup Selling: How to sell if you really, really have to and don't know how"
The Kindle version is on Amazon.com!