Oct
11, 2019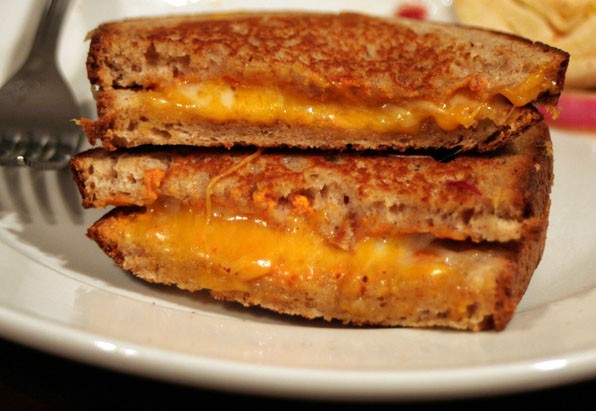 Grilled Cheese Saturdays & the other half of life
Last night, I got to thinking about all of the "life" I have outside of work every week a partner, spouse and parent.
Too often, I tend to let the whims of work affect my perspective on how my days and weeks are going, and that's just plain terrible. There are good days and bad days. Ups and downs. Wins and learnings. But life is so much more than work, and while work pays the mortgage, it's not what life is about.
Even when I have a good week at work, if I'm not having a good week at home, then what's the point? More so, when I'm having a tough week at work, having a good week at home shows me that the happiness I experience shouldn't be based only success at work.
Life is what happens every day – the victories and struggles, ups and downs, ebbs and flows, and those unexpected, unplanned events that blow up whatever plans you had for yourself.
I'm sitting in Philz coffee right now, and I just finished an exercise I prescribed to myself last night. The exercise is pretty simple – I looked back at the last week and detailed the daily events that happened outside of work. I've shared it below, and you're welcome to read it (or not). I'm only sharing it to give you a sense of how I completed the exercise.
Here's the takeaway for me – There were no 200-mile ultramarathons. There were no life-altering wins or catastrophes. Just everyday life that comes with being a husband and a dad.
When I look at the list, I feel pretty proud of myself for all of the "stuff" I did outside of work – handling daily trials and tribulations and creating the small wins through the week's obstacle course.
I'd encourage you to do the same. I think you'll be surprised by how many things you do every week – big and small – that should give you a reason to celebrate life.
Do More, Be Happy, Surprise Yourself.
Go Farther.
____
Saturday:
I joined my local running club's Saturday morning 10-miler for the first time in months. With the recent Tahoe 200 race and our Client Intensive event last month, along with Saturday soccer games, I haven't been able to get out there. This week I did and made a new running friend – a guy named Eric who's training for the upcoming California International Marathon. I got home in time for a nap before Benjamin's afternoon soccer game.
I coached his game, then we stopped at Nugget for sourdough bread and gourmet cheese – the necessary ingredients for our newest family tradition – "Grilled Cheese Saturday." Grilled Cheese Saturday works like this – we eat grilled cheese sandwiches for lunch on Saturdays.
Because I freaking LOVE grilled cheese.
Then I took another nap, played soccer in the backyard with Benjamin then got poke takeout for dinner and we had movie night at home.
Sunday:
I woke up and jumped into the garage for a workout. Sunday morning "garage workouts" have become a standard part of my week, where I push myself through multiple rounds of pull-ups, deadlights, and box jumps. Afterwards, I headed to the local coffee shop to jam on work for a couple of hours before going to a friend's house for his son's birthday party, which included a petting zoo and donuts.
Monday:
I dropped off Benjamin at school in the morning and picked him up in the afternoon. The morning was rough trying to get out of the house, with the standard seven-seven-year-old stalls – refusing to change his clothes, cajoling him to brush his teeth, taking FOREVER to put on his shoes and socks. I could feel my blood pressure rising and my face getting hot with frustration. We argued like only a 45-year old dad and his second-grade son can argue, but we finally got of the house and by the time we reached the curbside drop-off, all was well again.
After school, we stopped home and then I took him to jiu-jitsu class. Lately, he's been wanting me to stay and watch him in class. I asked him if I could just watch the second half of class because I wanted to run to OfficeMax to buy envelopes for mailing out signed copies of my book. I get fixated on optimizing on time and I thought it wouldn't be a big deal to just catch the second half of class.
"Sure, if you want to…"
But I could tell from his voice that he preferred for me to stay the entire time, so I asked – "How about I just stay for the whole class?" and he replied – "That would be great!"
So instead of trying to optimize for an extra 15 minutes in the day, we stopped at OfficeMax after class. In the grand scheme of life, it didn't matter if I took 15 minutes during class or after class, and I'm grateful that he communicated to me the way that he did so that I could hear how important it was for me to stay and watch.
Tuesday:
Soccer practice at night. Before practice, I squeezed in 30 minutes in the garage to exercise after a very full day on coaching calls, sales calls and recording a podcast. I really needed to reset.
After practice, he and teammate decided to run laps around the field. The sun is setting pretty early now, so by 7pm, dusk was quickly turning to night. As Benjamin turn the corner on the field, a dog ran right up to him and scared the bejeezers out of him. A couple of years ago, a small dog nipped him in the face, and since then, he's been skittish around dogs. Once we got him calmed down, he resumed his self-imposed lap-running and finished with a flourish.
Wednesday:
After-school rock-climbing for Benjamin and a chance for me to fit in a seven-mile run before we headed to the Farmer's Market to meet Lena for dinner. So many yummy options (a hot dog stand, Montoyo's tamales, Buckhorn, Ramen burritos…) and no dishes to clean at home. Woohoo!
Thursday:
A second jiu-jitsu class for Benjamin. His after-school baby-sitter dropped him off because I had few late afternoon work calls so I couldn't watch class, which made me even more thankful for staying on Monday for class.
He walked out of class crying because his instructor corrected him at the end of class during line-up. He was pretty upset and we sat in the car for 20 minutes while I tried to convince him to go and talk to his instructor about the disagreement. He refused, and I gotta say, I'm pretty impressed with his fortitude and resistance. I kept telling him that he needed to go back and have a conversation, and he kept refusing. At first he said he was going to quit jiu-jitsu, then finally admitted – "I'm not quitting."
We talked about it in the car and finally headed home. By the time we reached our driveway, it was nearly forgotten. Lena was working out in the garage, so I got Benjamin dinner and I dressed for a quick run around the neighborhood. I sat with him while he ate, and when Lena finished we swapped off. I did my run, had dinner with Lena, and talked about weekend plans.
Today/Tomorrow:
Here I am at Philz, writing this post. Writing brings me joy. This afternoon, I'll do a garage workout. Tonight, we're headed to a friend's house for a little shindig. Tomorrow is the club run in the morning and another soccer game in the afternoon. And because it's Saturday, I'll be eating grilled cheese for lunch again.
Life is good.
On top of all of that, here are a few more small wins for the week:
I've generally done well with my diet. The post-race weeks are tough because my discipline wanes, but overall, even accounting a few bowls of cereal at night and Grilled Cheese Saturday, I'm doing much better than usual.
I've exercised every day this week, except for Monday which was an intentional rest day.
I'm getting 7-8 hours of sleep, and even as much as 9-10 hours a couple of nights. Plus three naps in two days last weekend.
I wrote every day this week except for Thursday. Writing brings me joy.
Lena and I helped each other do what we love to do – she's been able to do her flight instructing on the weekends between her day job and I've been able to leave the house early a couple of mornings to write. Did I mention that writing brings me joy?
________
Plus, whenever you're ready, here are 3 ways I can help you grow your startup…
1. Download a copy of my NEW book – "Stop Hustling, Start Scaling" 
This book gives you the complete roadmap to grow sales and build repeatability in your startup's sales process.  Click Here…
2. Join me on my monthly LIVE Sales Q&A
Every month, I tackle YOUR sales questions on anything and everything sales – Prospecting, Pipeline, Sales Metrics, Buyer Behavior and more…  Click here to save your spot…
3. Work with me and my team privately
If you'd like to work directly with me to grow your company from startup to Scale Up, just send an email to [email protected] and put "Private" in the subject line, and tell me a little about your business and what you'd like to work on together, and I'll get you the details.