Jun
23, 2020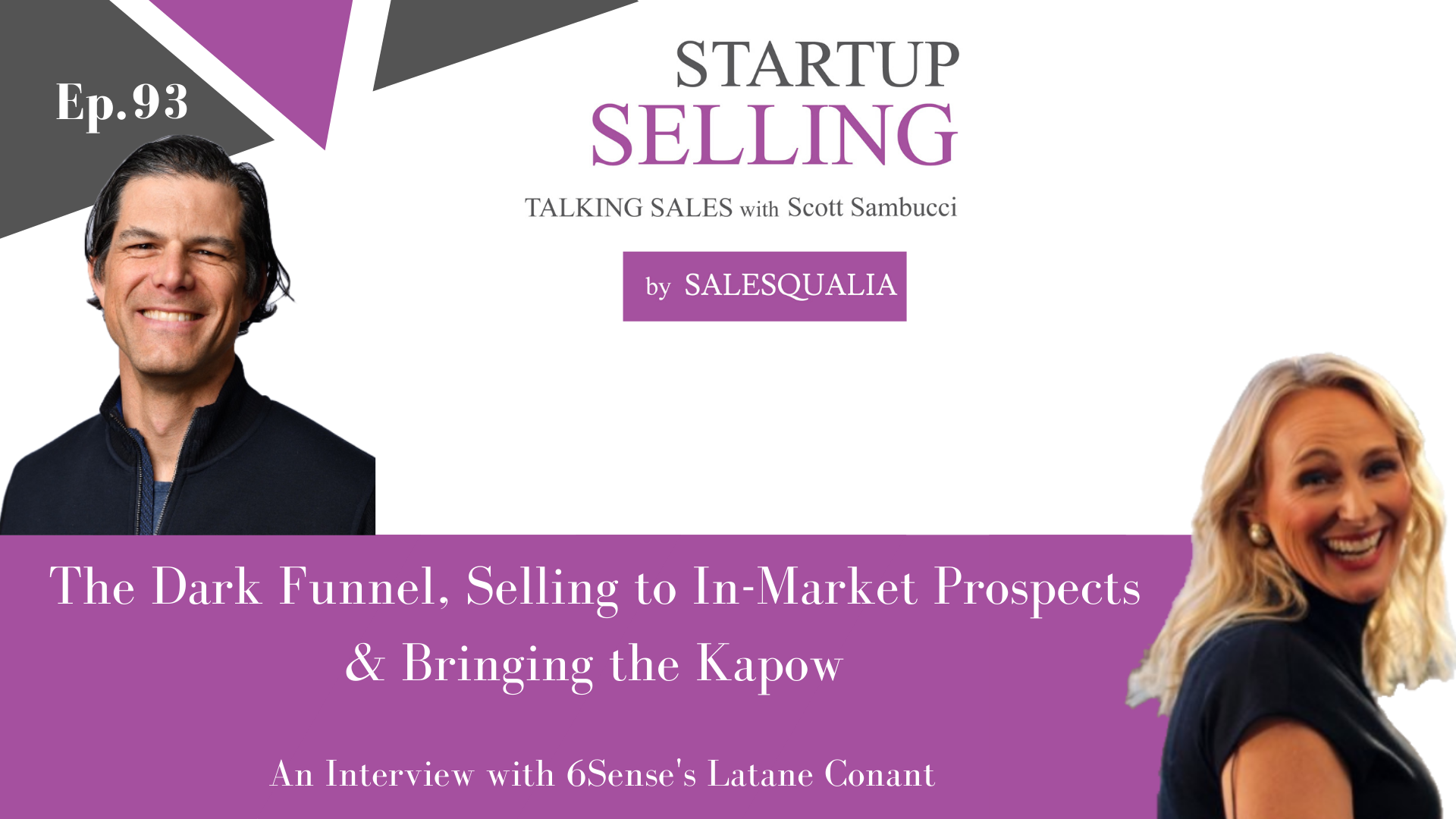 Ep. 93: The Dark Funnel, Selling to In-Market Prospects & Bringing the Kapow – An Interview with 6Sense's Latane Conant
In this episode of the Startup Selling Podcast, I interviewed Latane Conant.
Latané was instrumental in aligning sales and marketing in her previous position as CMO of Appirio, resulting in 5x more effective field marketing programs and a 300% increase in inbound leads.
Now as the Chief Market Officer of 6sense, Latané empowers revenue teams to compete and win in the age of account-based buying through 6sense's solution — allowing them to uncover, prioritize, and engage with demand by uniting one common, AI-powered platform.
This allows them to know everything they need to know and do anything they need to do, ultimately generating 40% more opportunities, closing deals 2x faster, and winning 2x more often.
Some of the topics that Latane and I discussed in this episode are:
"The Dark Funnel" – The activity and research your buyers are doing before contacting the seller.

Identifying which accounts are "in-market".

"New Inbound" – Get clear on the Ideal Customer Profile (ICP), the buyer's intent, and focusing your marketing and sales effort on the account that are "in-pocket".

"In-pocket" – problem aware and solution aware.

The importance of demand capture versus demand gen.

The value card and how you create content for the different buyers.

The importance of using video and how you can create quick content.

How to leverage AI to create an amazing customer experience.

The importance of orchestrating to create a positive experience for your buyer.

The importance of the "next best action" with your prospects.

Racial inequality and improvements we can all be making when it comes to diversity within our teams, customers, and community.
Links & Resources
Rapid Adoption. Immediate Impact: 6sense.com
Latane on Linkedin: www.linkedin.com/in/latane-conant
Manifesto for the Future of B2B Customer Engagement:
hub.6sense.com/breakthroughplus/manifesto-for-the-future-of-b2b-customer-engagement-latane-conant-cmo-of-6sense
SV Academy: sv.academy
[book] White Fragility: Why It's So Hard for White People to Talk About Racism:
www.amazon.com/White-Fragility-People-About-Racism/dp/0807047414
[assessment] Impact of Unconscious Bias:
trailhead.salesforce.com/content/learn/modules/workplace_equality_inclusion_challenges
Listen & subscribe to The Startup Selling Show here:
Stitcher | Spotify | iTunes |Soundcloud |SalesQualia.com
Thanks so much for listening! Tell a friend or ten about The Startup Selling Show, and please leave a review wherever you're listening to the show.