Jun
02, 2020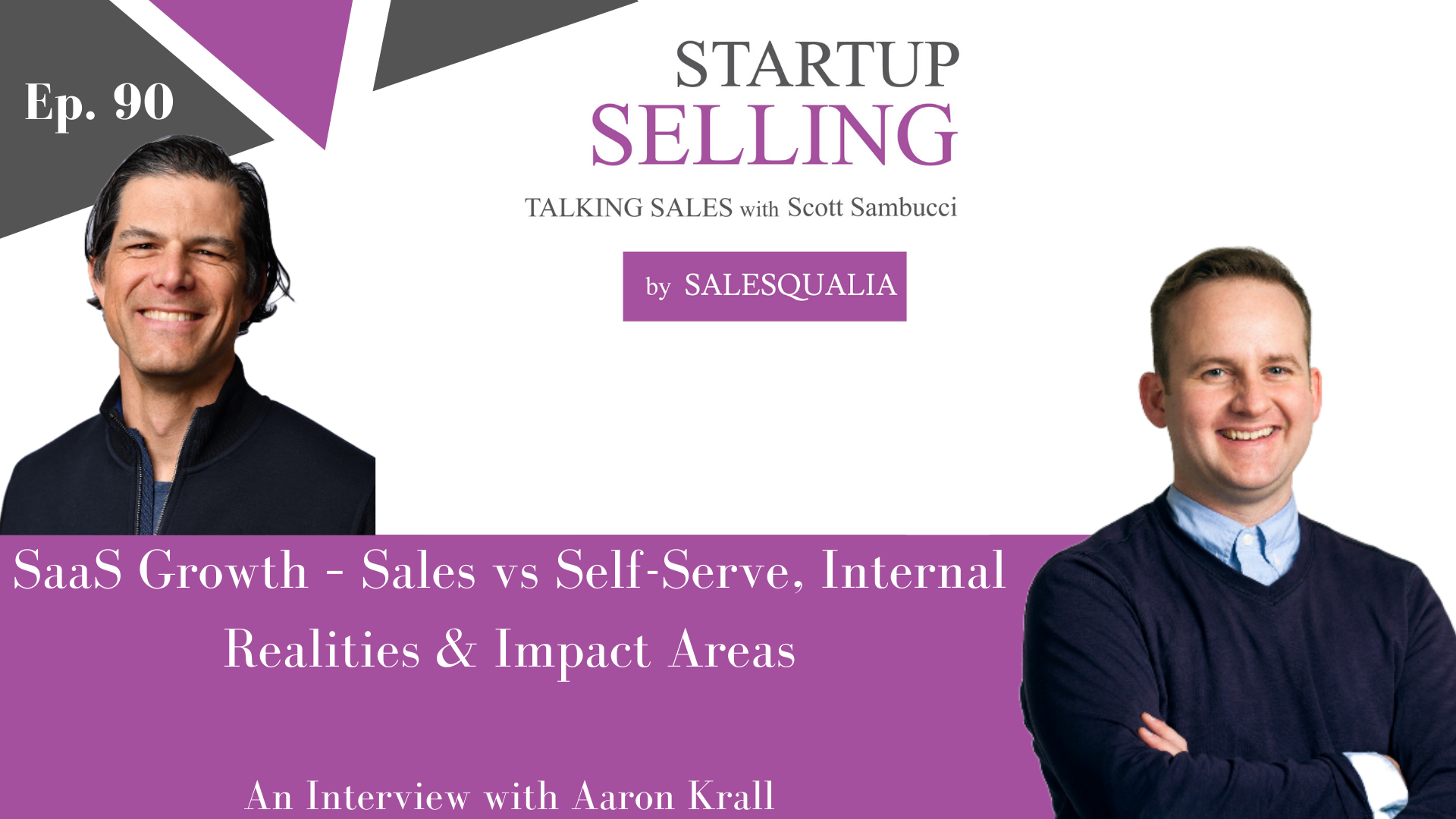 Ep. 90: SaaS Growth – Sales vs Self-Serve, Internal Realities & Impact Areas: An interview with Aaron Krall
In this episode of the Startup Selling Podcast, I interviewed Aaron Krall.
Aaron Krall helps SaaS companies drive more leads, convert more users, and accelerate growth. His proven, done-for-you systems and frameworks have increased conversions, automated sales, and reduced churn for companies like Reply.io and IBM.
Aaron also runs the largest SaaS community in the world: SaaS Growth Hacks on Facebook. 
He lives in Salt Lake City with his wife, Natalie, his son, Arlo, and dog, Penny.
Some of the topics that Aaron and I discussed in this episode are:
Self-Serve vs Sales – What are the types of products that work with a self-serve system versus the types of products that require a sale.

Selling vs Marketing – When & how should you be marketing and how should you be selling?

What makes a good marketing strategy?

Internal vs External Realities – How you can use your internal realities as part of your marketing strategy.

What are the key metrics that you should be looking at in your Marketing?

The importance of looking at your metrics on a weekly basis and identifying the impact areas within the business.
Links & Resources
Aarons Linkedin profile: www.linkedin.com/in/aaronkrall
SaaS Growth Hacks: www.facebook.com/groups/SaaSgrowthhacking
Understanding Your Customer's Desired Outcome:
sixteenventures.com/customer-success-desired-outcome
People & Products mentioned:
Bench: www.bench.co
Sujan Patel: sujanpatel.com
Superhuman: superhuman.com
Mailshake: www.mailshake.com
ClickFunnels: www.clickfunnels.com
Listen & subscribe to The Startup Selling Show here:
Stitcher | Spotify | iTunes | Soundcloud | SalesQualia.com
Thanks so much for listening! Tell a friend or ten about The Startup Selling Show, and please leave a review wherever you're listening to the show.