May
27, 2020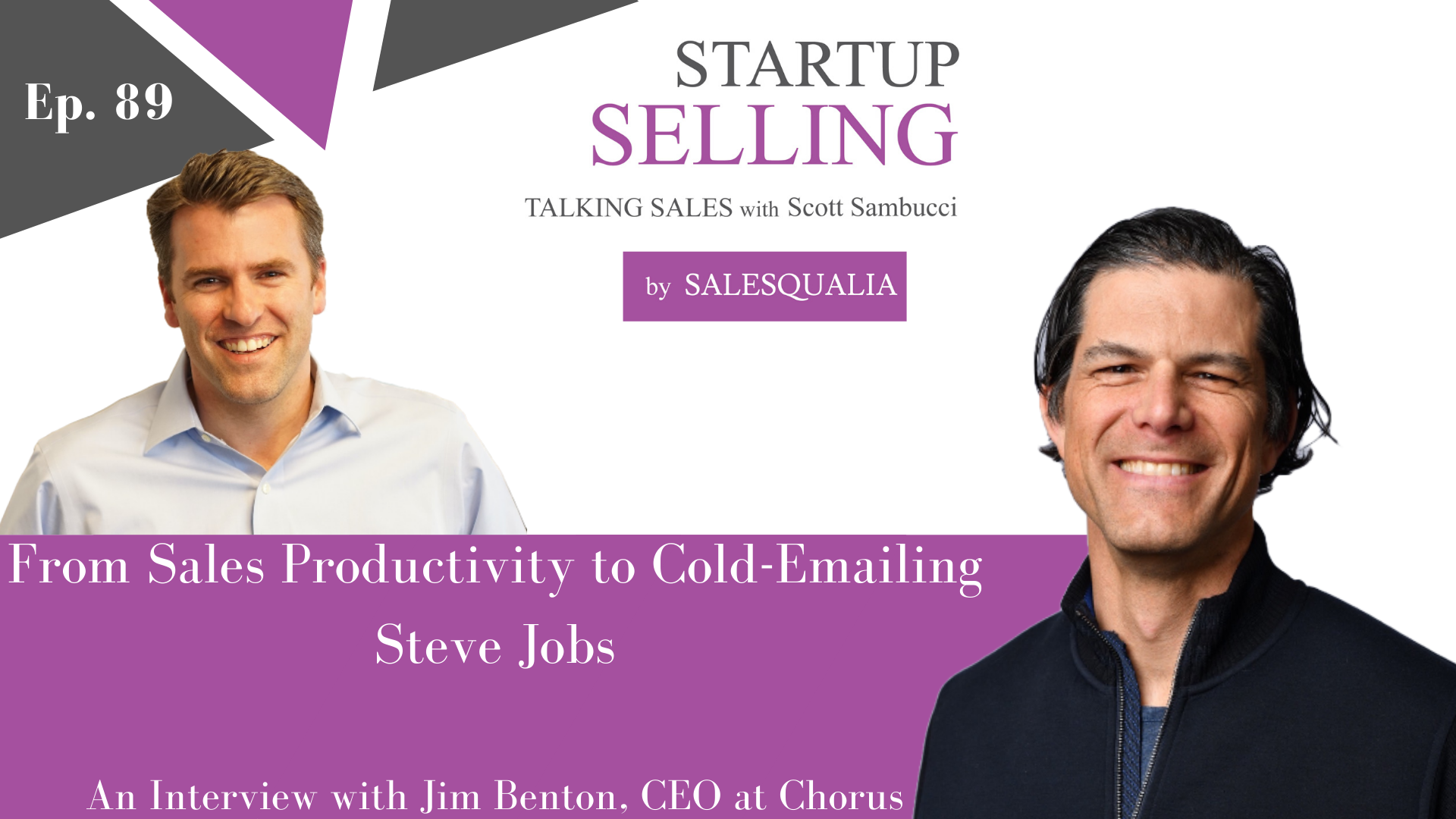 Ep. 89: From Sales Productivity to Cold-Emailing Steve Jobs: An Interview with Jim Benton, CEO at Chorus
In this episode of the Startup Selling Podcast, I interviewed CEO at Chorus, Jim Benton.
Jim joined Chorus.ai as CEO to bring Conversation Intelligence, the fastest-growing category in sales technology, to the masses. 
As a former Co-Founder of ClearSlide and CEO of Apollo, Benton's career is defined by revenue generation and applying the voice of the customer. 
Chorus will continue delivering solutions to improve the consistency and quality of the customer experience, quota attainment, and shortening new-hire onboarding for high-growth teams, like those of Zoom and MongoDB.
Some of the topics that Jim and I discussed in this episode are:
Sales Productivity – connect rates and follow up meetings resulting from the initial conversation.

How many times have phrases like "COVID" come up in your conversation?

Tactical changes that can be made to the way that you're operating your sales team. 

How the work of a salesperson has changed as we enter into this new way of selling.

The importance of getting clear on the problems and who the buyers are on the other side of the table.

The importance of bringing both sides of the executive team to the meeting.

The importance of authenticity. Give your team permission to be human in their conversation.

Jim's experience cold-emailing Steve Jobs and how he got a deal between Ticket Master and Apple.
Links & Resources
Chorus.ai: www.chorus.ai
ClearSlide: www.clearslide.com
Jim Benton on LinkedIn:  www.linkedin.com/in/benton
Listen & subscribe to The Startup Selling Show here:
Stitcher | Spotify | iTunes | Soundcloud | SalesQualia.com
Thanks so much for listening! Tell a friend or ten about The Startup Selling Show, and please leave a review wherever you're listening to the show.