Jul
13, 2022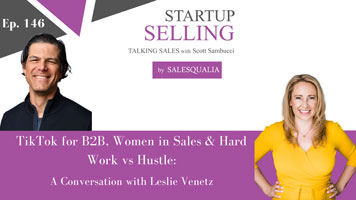 Ep. 146: TikTok for B2B, Women in Sales & Hard Work vs Hustle: A Conversation with Leslie Venetz
In this episode of the Startup Selling Podcast, I interviewed Leslie Venetz.
After 15 years as a top-performing B2B sales professional and people leader, Leslie is an expert in building elite sales organizations. As the founder of Sales Team Builder, Leslie uses her expertise to partner with organizations that want to build inclusive, buyer-centric sales teams.
Leslie is committed to making sales a respected profession and applies her experience as a 3x Head of Sales to help sales professionals achieve their personal best.
Leslie also shares content daily on LinkedIn and TikTok at SalesTipsTok. She is also a published author and was recently featured in Heels to Deals: How Women are Dominating in B2B Business
Some of the topics that we covered are:
Tik Tok for B2B Sales

Women in Sales at Startups and Tech Companies

Difference between Hustle and Bro-Culture vs Hardwork
Links & Resources:
Website – www.insidesalesteambuilder.com
LinkedIn – www.linkedin.com/in/leslievenetz
TikTok @SalesTipsTok – https://www.tiktok.com/@salestipstok?lang=en
Unleash Playbook – https://www.unleashplaybook.teachable.com
Daily Does of Sales Inspiration – https://b2bsalesteambuilder.gumroad.com/
Heels to Deals: How Women are Dominating B2B Sales – https://www.bmctalkspress.com/products/heels