Dec
22, 2021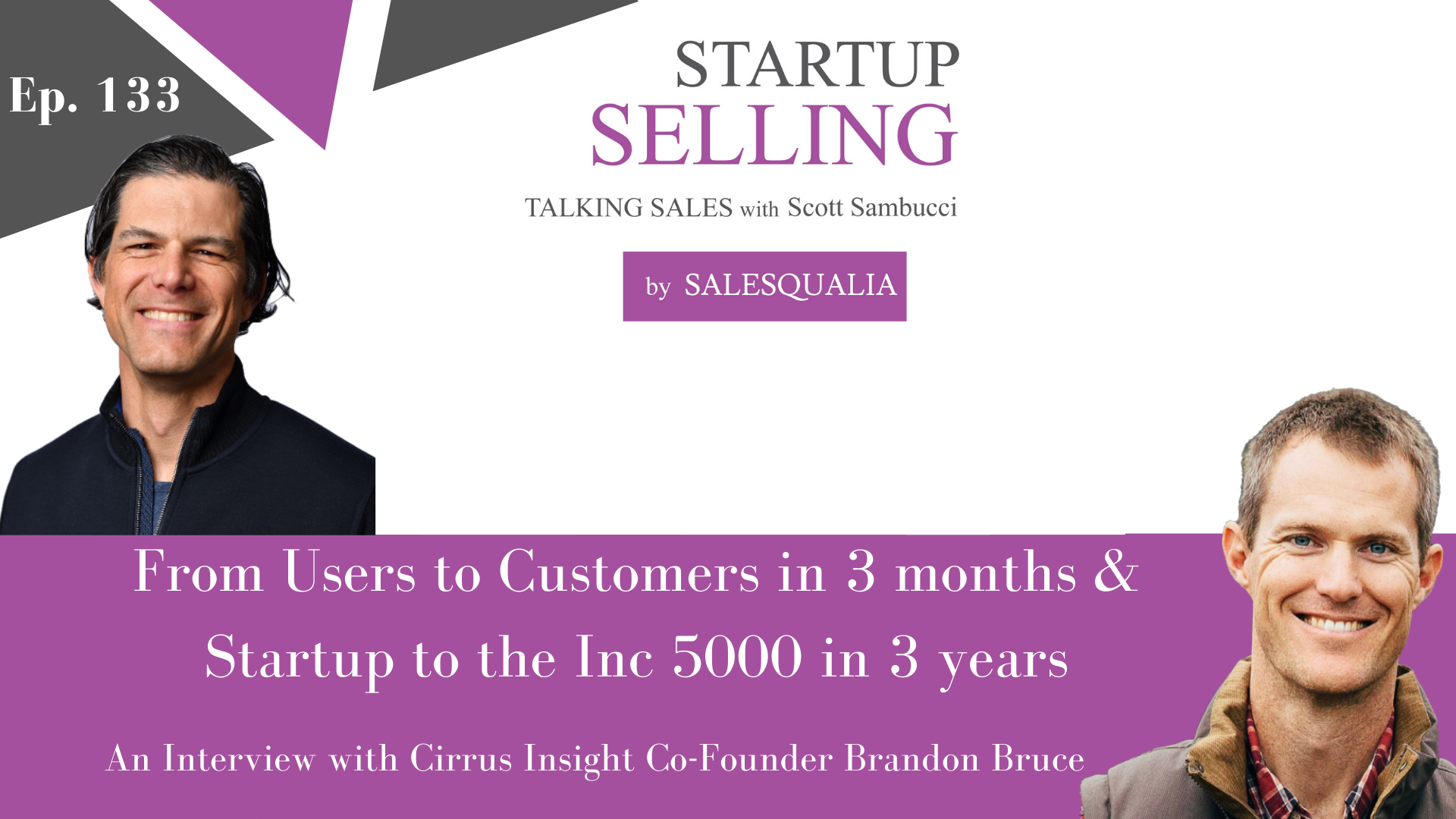 Ep. 133: From Users to Customers in 3 months & Startup to the Inc 5000 in 3 years: An Interview with Cirrus Insight Co-Founder Brandon Bruce
In this episode of the Startup Selling Podcast, I interviewed Cirrus Insight Co-Founder Brandon Bruce. 
Brandon is the Co-Founder and Chief Operating Officer at Cirrus Insight. Since founding the company in 2011, Cirrus Insight has been listed in the Inc 5000 ranking for three years in a row — A list of the nation's fastest-growing private companies.
Cirrus Insight is an all-in-one sales productivity platform with world-class Salesforce integration. 250,000 people use Cirrus Insight and its sister products Attach.io and Assistant.to to work faster and smarter from the inbox and calendar. It allows you to Track emails, schedule meetings, set follow-ups, and more, right from your inbox.
Brandon grew up in Los Olivos, a small California town of 800 people, and had only one classmate in grade school.
He loves endurance sports and raced his bicycle 508 miles across Death Valley in 2002 as part of the Furnace Creek 508 (https://www.the508.net/). He finished in 35 hours and 7 minutes. He also enjoys hiking, camping, and building with Legos. Brandon lives in Knoxville, Tennessee with his wife, Tricia, and their two children, Sonoma and Carson.
Brandon's advice for Entrepreneurs and Founders:
"Stay curious." & "Have the ability to make decisions."
In my conversation with Brandon, we covered a lot of the early days at Cirrus Insight. We focused on how Brandon and his Co-Founder, Ryan Huff, built the company from 0 to +250,000 users.
Some of the topics that we covered are:
Getting their first users.

Converting them into paying customers.

Pricing in the early days Vs Pricing now.

Making their first sales hire.

The bottom-up sales strategy.

Creating your product roadmap based on feedback.

Using partners to sell your product.
Links & Resources: 
Brandon on LinkedIn – https://www.linkedin.com/in/brandonbruce
Cirrus Insight – https://www.cirrusinsight.com
Listen & subscribe to The Startup Selling Show here:
BluBrry | Deezer | Amazon | Stitcher | Spotify | iTunes | Soundcloud | SalesQualia
Thanks so much for listening! Tell a friend or ten about The Startup Selling Show, and please leave a review wherever you're listening to the show.