Sep
13, 2021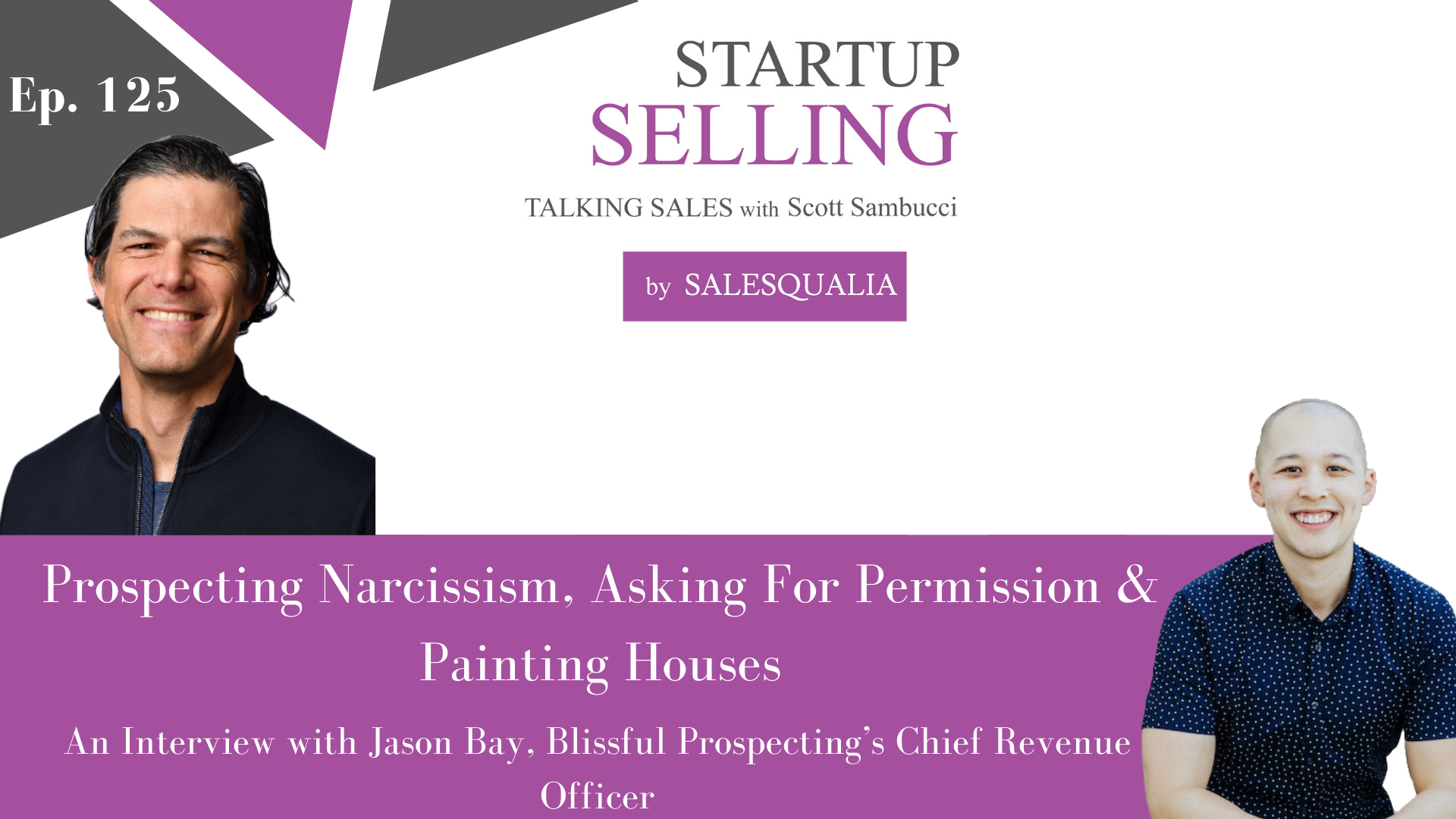 Ep 125: Prospecting Narcissism, Asking For Permission & Painting Houses: An Interview with Jason Bay, Blissful Prospecting's Chief Revenue Officer
In this episode of the Startup Selling Podcast, I interviewed Jason Bay.
Jason is the Chief Prospecting Officer at Blissful Prospecting. He helps reps and sales teams who love landing big meetings with prospects—but hate not getting responses to their cold emails or feeling confident making cold calls. 
A few of his clients have included reps and sales teams from companies like Zoom, CBRE, Medallia, Xfinity, Commvault, and many more. 
Sales is the only "adult job" he's ever had. And he's done everything from selling house painting services door to door, running outbound call centers, to helping thousands of reps master cold outreach.
Some of the key topics and questions that we covered in this podcast are:
What does painting house have to do with outbound?

How Jason's door to door work transitioned into his work and principles of how to set up a meeting with a prospect that directly relates to B2B outbound.

Conversation Narcissism – Taking a "me" centric approach versus a "you" centric approach.

Permission-based selling – How do you gain permission in your sales process.

The importance of "teaching" instead of "taking"

The difference and the importance of doing quality first versus mass blast.

How to think about outbound if you don't think that it works anymore, or take a different approach with scaling your Startup. 
Links & Resources
Jason Bay on LinkedIn: www.linkedin.com/in/jasondbay
Blissful Prospecting: www.blissfulprospecting.com
Listen & subscribe to The Startup Selling Show here:
BluBrry | Deezer | Amazon | Stitcher | Spotify | iTunes | Soundcloud | SalesQualia
Thanks so much for listening! Tell a friend or ten about The Startup Selling Show, and please leave a review wherever you're listening to the show.