Feb
22, 2021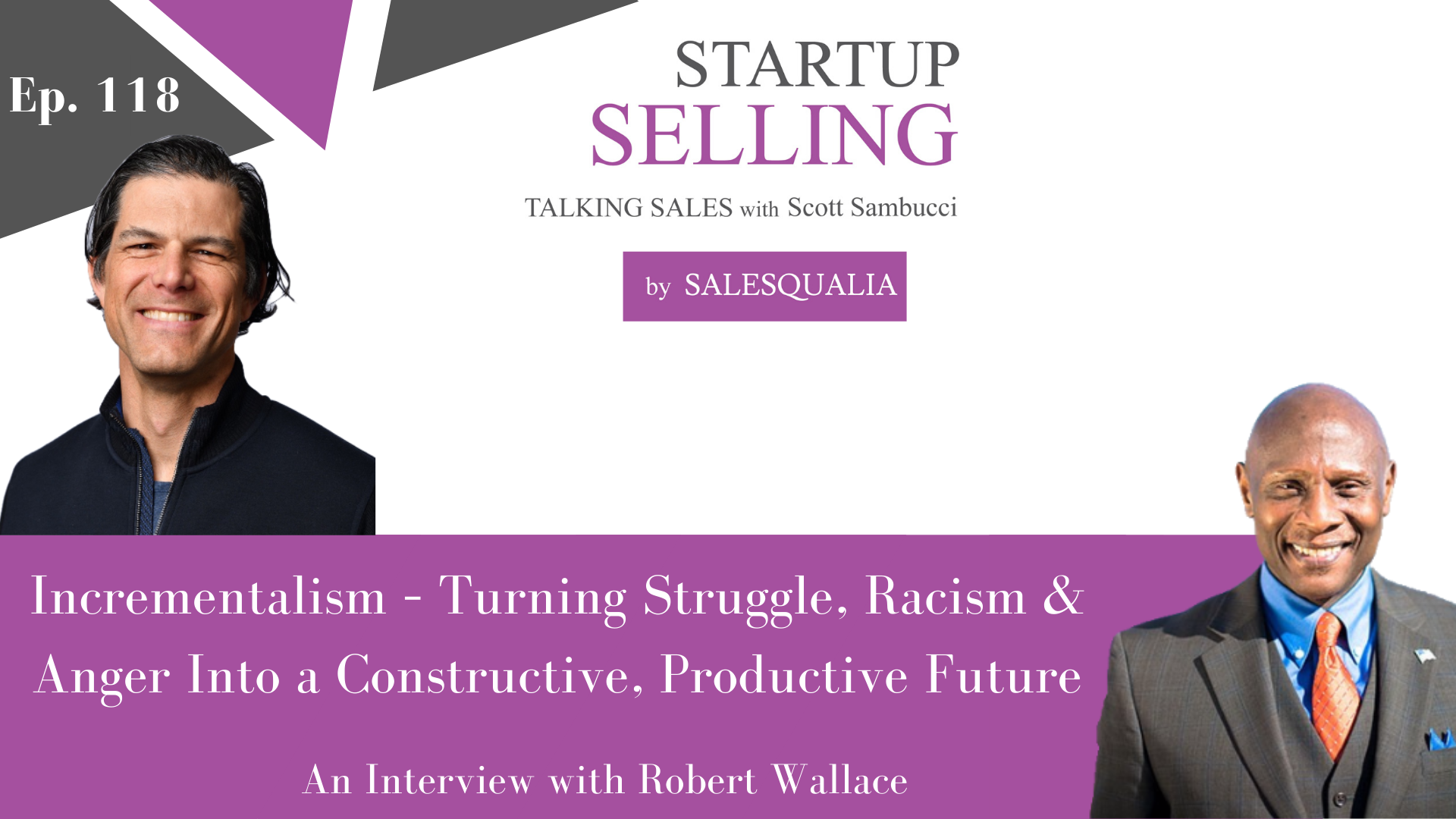 Ep.118: Incrementalism – Turning Struggle, Racism & Anger Into a Constructive, Productive Future: An Interview with Robert Wallace
In this episode of the Startup Selling Podcast, I interviewed Robert L. Wallace.
Robert is an internationally known entrepreneur, author, business consultant, and keynote speaker. With more than four decades of industry experience spanning engineering, energy, IT, and executive coaching, Bob leverages his expertise to educate and inspire entrepreneurs, executives, and audiences around the world.
Growing up in the housing projects of Baltimore City amidst poverty and racial segregation, Bob overcame social and economic obstacles through his own rags-to-riches story to become a successful serial entrepreneur. After being groomed by innovative industry leaders like IBM, DuPont, Westinghouse, and Procter & Gamble, Bob leveraged his experience to establish three companies: BITHGROUP Technologies Inc., a cybersecurity and IT services provider; Bithenergy, Inc., a renewable energy and consulting company; and Robert Wallace Media which includes RobertWallace.com and EntreTeach Learning Systems LLC.
Pulling from his real-life experiences and extensive research, Bob has authored 5 books and continues to write. His areas of expertise include wealth creation methodologies, urban economic development strategies, strategic partnerships, business spirituality, and domestic emerging markets. In particular, Robert addresses the business challenges faced by women, people of color, and entrepreneurs of all stripes from both domestic and global emerging markets. Bob tells the story of these amazing people with an insightful approach that makes his writing equally compelling to large corporations who are nurturing an "intrapreneurial" spirit within their workforce.
Today, Bob blends his diverse experiences in engineering, energy, technology, and entrepreneurship to educate, entertain and enlighten corporate audiences across industries and demographics. His dynamic keynote presentations and hands-on workshops inspire personal and professional breakthroughs, resulting in bottom-line improvements.
When he's not researching, mentoring, or presenting to other business leaders, Bob enjoys spending time with his wife, their five children, eight grandchildren, and his internationally expanding family. He frequently leads groups on mission trips to various countries in Africa and Latin America, where he has helped start businesses, orphanages, and schools.  Avid about education, especially STEM programs, he regularly mentors students in high school and college. Bob is a passionate community leader and devoted church elder who believes in the intersection of spirituality and business. He helped establish Global Vessels, a faith-based nonprofit that pursues humanitarian projects around the world to meet the physical and spiritual needs of people in emerging nations. Through this nonprofit, he has built global relationships that have translated into profitable connections – an example of his motto to "do well while doing good."
Currently, Bob serves as Affiliate Professor of Business at the Loyola University Sellinger School of Business, where he lectures on innovation and entrepreneurship in the global economy. Previously, he earned his Bachelor of Science degree in Mechanical Engineering and Applied Mechanics at the University of Pennsylvania, and his MBA from the Amos Tuck School of Business at Dartmouth College. It was at Dartmouth where he began his groundbreaking research on the success characteristics on some of the world's most accomplished entrepreneurs. He proudly serves on the boards of the University System of Maryland Board of Regents, the Greater Baltimore Committee, Capital Region Minority Supplier Development Council, Kennedy Krieger Institute, Maryland Economic Development Commission, The President's Roundtable, and the Wallace for Mayor Campaign Committee.
Links and Resources:
(Website) Robert Wallace: www.robertwallace.com
(Books) Robert Wallace: amzn.to/2NMN6bq
(Instagram) Robert Wallace: www.instagram.com/drrobertlwallace
Listen & subscribe to The Startup Selling Show here:
BluBrry | Deezer | Amazon | Stitcher | Spotify | iTunes | Soundcloud | SalesQualia
Thanks so much for listening! Tell a friend or ten about The Startup Selling Show, and please leave a review wherever you're listening to the show.