Feb
15, 2021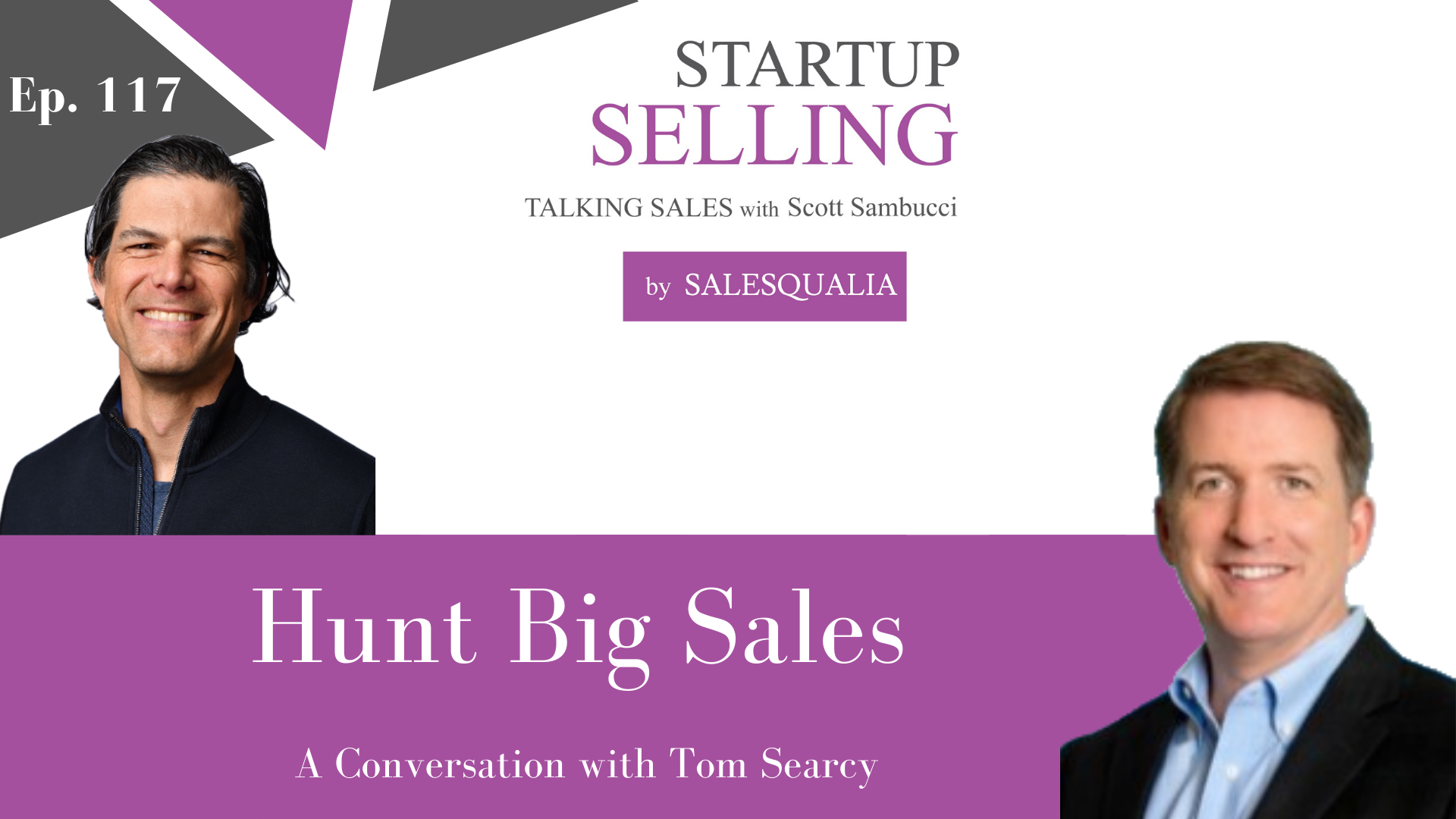 Ep.117: Hunt Big Sales: A Conversation with Tom Searcy
In this episode of the Startup Selling Podcast, I interviewed Tom Searcy.
 By the age of 40, Tom had led four different corporations from revenues of less than $10 million to greater than $100 million, each in under four years. He is now the Founder and CEO of Hunt Big Sales, a fast-growth consultancy and thought leadership organization. 
Using his systems, Hunt Big Sales clients have landed more than $8 billion in new sales with 190 of the Fortune 500 companies, including 3M, Disney, Chase Bank, International Paper, AT&T, Apple, and hundreds more. 
Tom has over 20 years of experience as an expert in sales and thought leadership. As a keynote speaker and workshop leader, he is known for his expertise in unlocking explosive growth for business owners, educating business owners on the changing landscape of selling, and helping them position their organizations for continued growth. 
Tom delivers keynote speeches, whole, and half-day workshops, along with courses and dedicated coaching with an emphasis on actionable content designed to help business owners significantly increase revenue while successfully navigating and leading their organization through the new selling environment. 
He is a regular speaker at the Inc. Magazine and Inc. 500/500 conferences, as well as Vistage International, the leading organization for CEO thought-leadership. Tom is ranked in the top 1% of speakers at Vistage. More than 5,000 CEOs around the world have heard Tom speak about his sales growth methodologies. He has written weekly on-line columns for Forbes, CBS MoneyWatch and Inc.com, which have a combined readership of 38 million. Tom's expertise has also been featured in The Wall Street Journal, Financial Times UK, Inc. Magazine, and numerous business publications.
Tom is the author of multiple books. His latest book, Life After the Death of Selling: How to Thrive in the New Era of Sales, covers the new buyer driven economy, and how to survive extinction in the new era of sales. He's also written RFPs Suck! How to Master the RFP System Once and for All to Win Big Business. Tom's the co-author of Whale Hunting: How to Land Big Sales and Transform Your Company, and How to Close a Deal Like Warren Buffett: Lessons from the World's Greatest Dealmaker.
Some of the key topics and questions that we talked about are:
How does a company know that they're ready to double their deal sizes and covert deals more quickly?

Four key areas that are necessary for a company to grow:

Support new deals

The team

The desire to grow

The belief that the team can hit their growth

Price is based on the problem and not urgency.

The importance of a target filter.

The importance of fear versus having a technical advantage when it comes to a buyer's decision.

Fear busters.

The eel in the deal.

"Yes, later" actually means "No".

How to create an ethical unfair advantage. 
Links and Resources:
[Website] Hunt Big Sales: www.huntbigsales.com
[LinkedIn] Tom Searcy: www.linkedin.com/in/tomsearcy
[Book] How to Sell in Place: www.huntbigsales.com/resources/store
[YouTube] Hunt Big Sales:
www.youtube.com/channel/UCiyT8WJfXLC78MVWmFn7-5A
Listen & subscribe to The Startup Selling Show here:
BluBrry | Deezer | Amazon | Stitcher | Spotify | iTunes | Soundcloud | SalesQualia
 Thanks so much for listening! Tell a friend or ten about The Startup Selling Show, and please leave a review wherever you're listening to the show.