Oct
13, 2020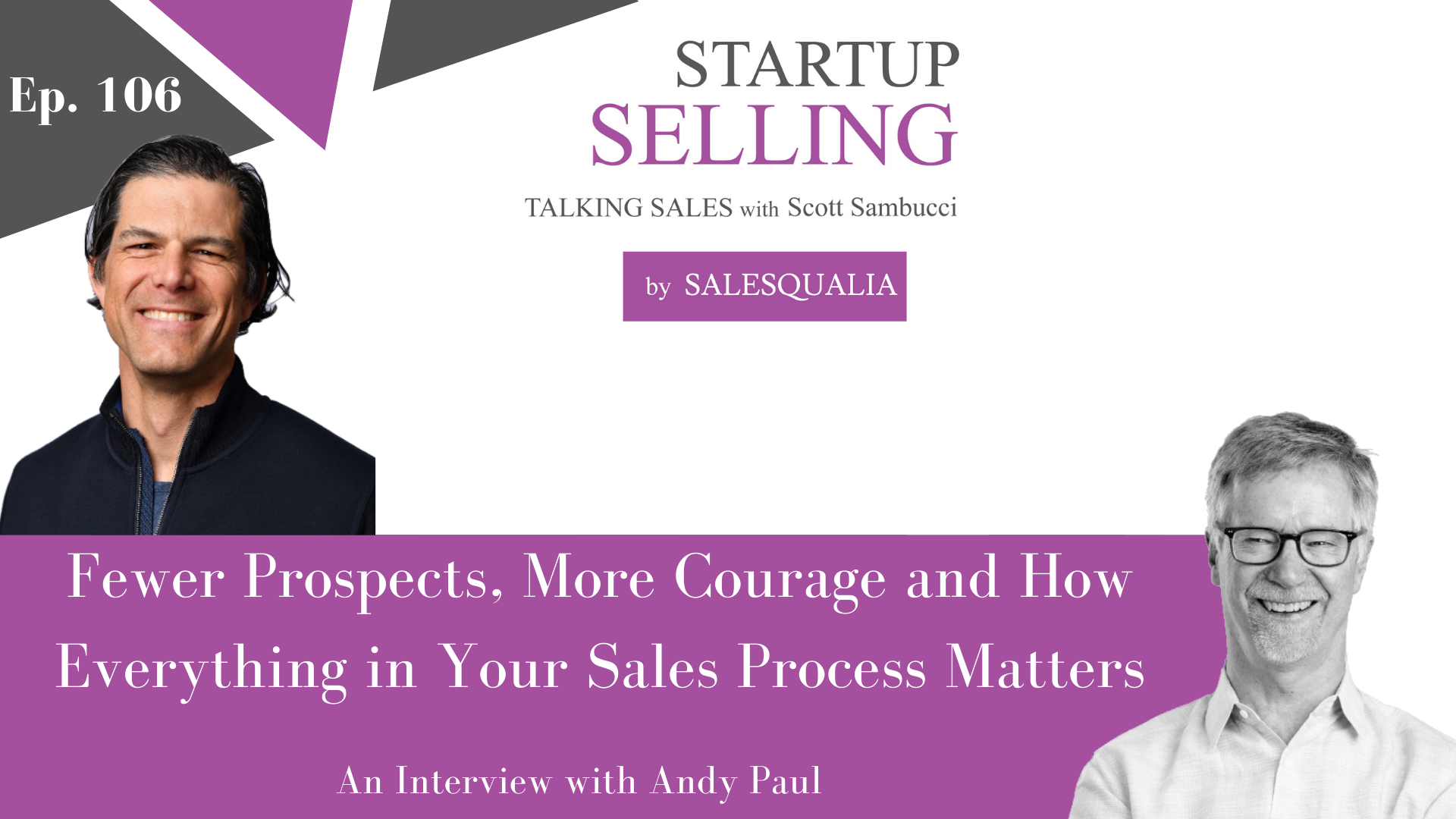 Ep.106: Fewer Prospects, More Courage and How Everything in Your Sales Process Matters – An Interview with Andy Paul
In this episode of the Startup Selling Podcast, I interviewed Andy Paul.
Andy has written two award-winning sales books, Zero-Time Selling and Amp Up Your Sales, is ranked #8 on LinkedIn's list of Top 50 Global Sales Experts. He has consulted with some of the biggest businesses in the world including Square, Philips, Grubhub, and more, making him one of the leading voices in the sales industry today. 
With more than 175,000 followers on LinkedIn, Andy is a highly sought-after speaker and sales sage who has made it his life's work to bring you strategies and insights that enable you to generate more wins and massive value. 
Some of the key topics that we discussed in this episode are:
Topics & Key Words:
The importance of relationships in Sales

Courage

Sales Manager vs Sales Coach

Misallocation of Attention

Productivity Growth

Returns of Time Invested

Paradox of choice
Link & Resources:
Andy Paul on LinkedIn: www.linkedin.com/in/realandypaul
Andy Paul: Amp Up Your Sales: Powerful Strategies That Move Customers to Make Fast, Favorable Decisions:
Sales Enablement Podcast with Andy Paul: 
www.ringdna.com/sales-enablement-podcast-with-andy-paul
Herbert Simon: Bounded Rationality: amzn.to/33IYeeK
Herbert Simon: Administrative Behavior: amzn.to/2Gv112x
Paradox of Choice: amzn.to/33IROwd
Peak-end Rule: en.wikipedia.org/wiki/Peak%E2%80%93end_rule
New B2B Buying Journey & its Implication for Sales:
www.gartner.com/en/sales/insights/b2b-buying-journey
The Identification of Solution Ideas during Organizational Decision Making:
Meet Liverpool's secret weapon: throw-in coach Thomas Grønnemark:
Zero-Time Selling: 10 Essential Steps To Accelerate Every Company's Sales:
Listen & subscribe to The Startup Selling Show here:
Stitcher | Spotify | iTunes | Soundcloud | SalesQualia.com
Thanks so much for listening! Tell a friend or ten about The Startup Selling Show, and please leave a review wherever you're listening to the show.