Mar
08, 2023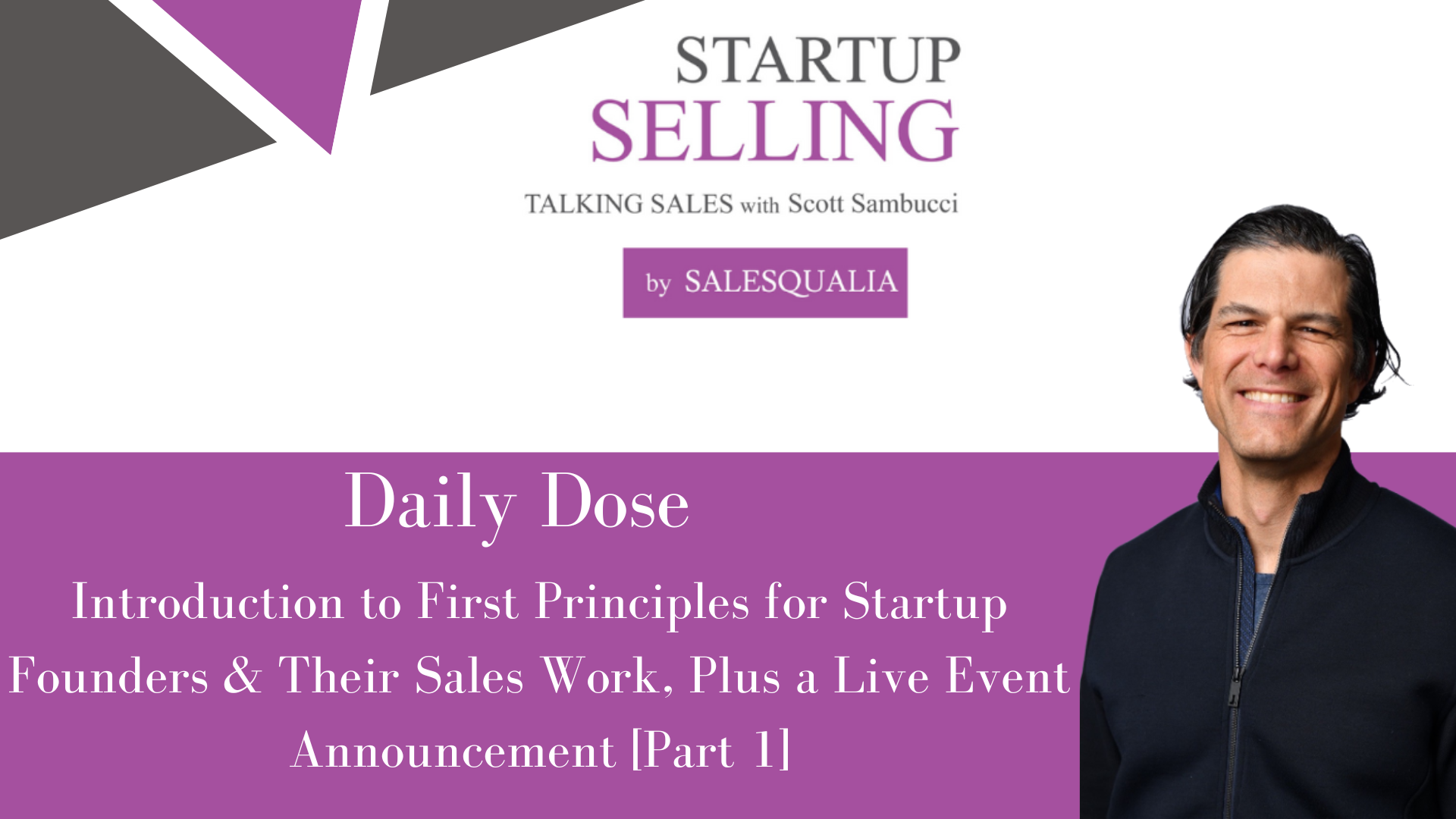 Daily Dose: Introduction to First Principles for Startup Founders & Their Sales Work, Plus a Live Event Announcement [Part 1]
When things get tough, go back to First Principles. That's what these next few podcast episodes are all about.

In this episode, Scott focuses on the principle:
"Focus on Now now; worry about Later later."
I'm seeing a lot of trepidation in the market right now, especially for startup founders, and founders are nervous for lots of reasons.
First, founders are seeing and feeling the crunch when it comes to the financing and funding part of the world. VCs and investors are pulling back because they like to mitigate risk, not take risk.
A second reason is the general economic slowdown. Now, I never subscribe to the excuse that the economy is slow, therefore I can't sell my stuff. As a startup, you should be focused on early adopters and nailing a niche of early customers ready to take action regardless of the macroeconomy. 
That said, if you're selling to the enterprise, you know that large companies like the Fortune 500s are pulling back. They're pulling back on budgets. They're pulling back on expenses. They're pulling back and cutting their own workers, including some of the people you might have been working with as part of a sales deal over the last 6 months. All of a sudden you find out that person just isn't there anymore. 
Thirdly, I think the reason for some anxiety started with the sales goals and projections founders established early in the year. Many teams go into the new year with a fervor and excitement and enthusiasm – this is going to be OUR year, putting together strategies and sales plans, maybe having hired a sales team in the last few months, expecting that now they're going to be fully onboard. Plus there are some deals in the sales pipeline which carried over from Q4.
When everything slows down, against what we wanted or needed for the year, it's time to get back to basics and First Principles.
—
👣 Now, let's talk about YOU and YOUR startup's journey… 👣
If you're a startup CEO that's on your journey to make the climb to $100mm ARR…
If you're one of those rare breeds of founders that's willing to acknowledge & accept that there are no shortcuts…
If you're willing to work step-by-step, day-by-day with patience, persistence & perseverance…
Then I've got some pretty incredible news…
I'm partnering with Amy Volas & Avenue Talent Partners to bring you a 2-day, IRL immersive experience specifically for startup founders & CEOs whose companies are selling to the enterprise.
Yes this an "In Real Life" event – next month at a top-notch location in a world-class city with 5-star amenities provided by us.
You'll work alongside Amy Volas, me, the SalesQualia team & an unrivaled peer group of fellow founders & CEOs ready to transform their business and mindset, and yours.👇 Here's the criteria…👇
You MUST:
✅ Be a B2B tech startup founder doing at least $50k MRR right now.
✅ Be willing to invest time, energy, and focus for two days to work on scaling your sales & your team.
✅ Be friendly & coachable – you will openly ask questions & share ideas.
✅ Acknowledge & accept there are no shortcuts, hacks, or magicians that will bestow you a $100m revenue engine.
✅ Keep a secret…We have VERY limited space & tickets available for purchase because of our venue & how we're running this IRL immersive event. If this is you, and you're ready to transform your business and yourself…Check out the details here and how to save your spot for this exclusive, in-person, immersive event at www.salesqualia.com/Chicago2023
Let's do this, shall we?