Mar
10, 2023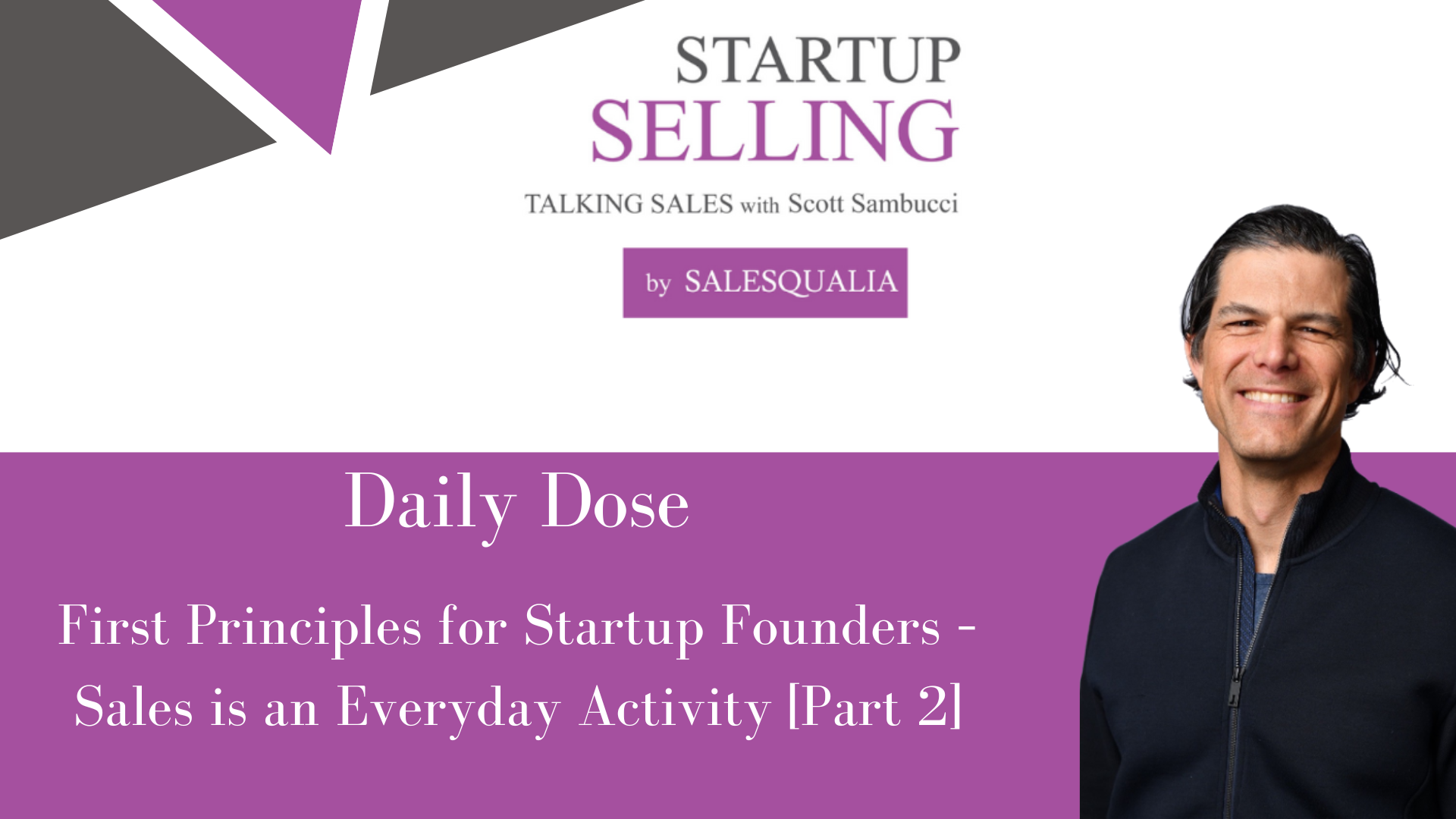 Daily Dose: First Principles for Startup Founders – Sales is an Everyday Activity [Part 2]
This is Part 2 of our series – First Principles for Startup Founders
In this episode, Scott focuses on the principle:
"Sales is an everyday activity."
Booking booth space at a few industry conferences… Outsourcing your lead gen work to an SDR firm to batch and blast your market… Paying a marketing firm thousands of dollars every month to create DemandGen…
They can be good short-term forcing functions to drive leads and generate sales behavior, none of those are scalable or install a culture of sales in your startup.
Founders need to take action everyday, to take better control of their sales process. Making sales an everyday activity also gets founders more clarity about what we're doing every day, while giving themselves, their team and the market confidence.
👣 Now, let's talk about YOU and YOUR startup's journey… 👣
If you're a startup CEO that's on your journey to make the climb to $100mm ARR…
If you're one of those rare breed of founders that's willing to acknowledge & accept that there are no shortcuts…
If you're willing to work step-by-step, day-by-day with patience, persistence & perseverance…
Then I've got some pretty incredible news…
I'm partnering with Amy Volas & Avenue Talent Partners to bring you a 2-day, IRL immersive experience specifically for startup founders & CEOs whose companies are selling to the enterprise.
Yes this an "In Real Life" event – next month at a top-notch location in a world-class city with 5-star amenities provided by us.
You'll work alongside Amy Volas, me, the SalesQualia team & an unrivaled peer group of fellow founders & CEOs ready to transform their business and mindset, and yours.
👇 Here's the criteria…👇
You MUST:
✅ Be a B2B tech startup founder doing at least $50k MRR right now.
✅ Be willing to invest time, energy and focus for two days to work on scaling your sales & your team.
✅ Be friendly & coachable – you will openly ask questions & share ideas.
✅ Acknowledge & accept there are no short cuts, hacks or magicians that will bestow you a $100m revenue engine.
✅ Keep a secret…
We have VERY limited space & tickets available for purchase because of our venue & how we're running this IRL immersive event.
If this is you, and you're ready to transform your business and yourself…
Check out the details here and how to save your spot for this exclusive, in-person, immersive event  at www.salesqualia.com/Chicago2023
Let's do this, shall we?