Mar
31, 2017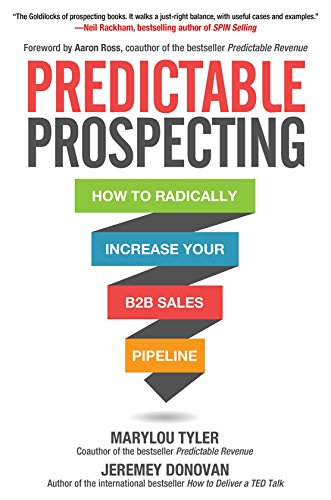 Predictable Prospecting, Podcasts & Selling Confidence [The Friday Four – 3/31/17]
It's the last day of Q1. Do you know where your sales are?
I just wrapped up a round of Sales Strategy Calls with my clients to set the course for the next three months.
If you want some help with this,
grab time on my calendar here for a "Sales Audit.
" It takes about 15 minutes and we'll identify the top three risks and opportunities in your sale company's sales process. It's rapid fire and we dig deep really quickly. You might not like what you find, so be warned: You talk to me at your own risk… ????
Now on to this week's installment of The Friday Four…
1 – PREDICTABLE PROSPECTING 
Marylou Tyler, co-author of "Predictable Prospecting: How to Radically Increase Your B2B Sales Pipeline," is my latest guest on
The Startup Selling Podcast.
(If you don't know Marylou… Ever heard of another book titled "Predictable Revenue?" I bet you have… Marylou coauthored that book with Aaron Ross.)
My interview with Marylou focuses on her methodology – "Predictable Prospecting" – to grow the top of the sales funnel.
We dug DEEP into the book and topics. Here are just a few of the topics from my book we tackled in our conversation:
Internalizing Your Competitive Position
Six-Factor SWOT Analysis
Developing an Ideal Account Profile
Compel with Content™
McKinsey's MECE model applied to sales
Mass personalized versus Hyper-personalized emails
An Eight-Touch, 13-Business Day Email plan for new lead development
Customer Referral Programs
Email Campaign Formula, Appointment-setting and sales funnels
How you can send your emails wisely
And definitely pick up a copy of her book. It's well worth it.
2 – INTERESTED IN HEALTH-TECH? ARE YOU A KICK-ASS PROSPECTOR?
Check out Patch. I know this team really well because they've been clients since last year. They are GROWING LIKE CRAZY, and they're hiring a Sales Development Rep right now.
I was at their office this week and their CEO, Brett Plotzker, told me – "It's f*cking nuts right now. We have a ton of leads coming in every day. Our SDR is talking to 20 people every day from our inbound leads and we still have backlog…"
This team is laser-focused and crushing it right now. If you've got 6-12 months of SDR experience and are ready to hop aboard a rocket ship launching into orbit,
apply via Angellist here
, or reply back and I'll do an introduction for you.
3 – ABOUT THE STARTUP SELLING PODCAST…
I started podcasting about a year and a half ago. I wanted to create more long form content about sales and selling strategies. Over time, the podcast morphed into interviewing experts across various sales topics.
Downloads are growing every month, and I'd LOVE it if you'd subscribe to The Startup Selling Podcast on iTunes.  
Click here to check it out.
Then tell a friend about it… Viral is still one of the best ways to grow and I would appreciate your help!
---
Reminder….
If you want help with the top risks and opportunities in your sales process,
---
4 – YOUR CUSTOMER'S BRAIN vs YOUR BRAIN
Take the lead with your prospects. They need you.
You spend 100% of your time thinking about and solving the core problem that your customers have. You wake up every day building the product, writing code and looking for people that have the exact problem you solve. You obsess over that problem and how to solve it.
But there's the thing… Your future customers only think about that problem a fraction of the time, even if that problem is a really important one for them. They have 10 or 15 or 20 other problems or worries everyday. The executives you're selling to have a bunch of other worries – managing their team, budgeting, internal politics, and more…
So when you're talking to that executive, be confident that you know more about their problem, how the problem is structured and how to solve it than they do.
Be confident.
That is all. Happy selling. Talk soon…
-Scott