Apr
11, 2017
Is it possible for an SaaS product to penetrate the enterprise without a dedicated sales force? #Q&A
Question:
How can a small and resource-constrained SaaS enable adoption at enterprise-level without spending (much) time or money?
Answer:
Yes, in fact you have to start without a dedicated sales force for the first 3-4 customers. The first sale will be extremely manual and will reveal the steps of the sales process critical to building the repeatability and scalability. From there, you can either build a sales team, or automate the purchasing process.**
I like Peter Johnston's 1:10:100 strategy as a way to build your sales process – use your network to identify a high-level executive sponsor that can bring onboard in a paid capacity.  Working with this early executive champion and focusing on a small pilot program, you can shorten the typical enterprise sales process that Steli Efti describes. You can't afford an 18-month sales cycle, both from a business and product development standpoint.
Completing the sale as the CEO for that first customer buying process will introduce all kinds of procurement process and requirements to your company  – including who is involved with the purchasing decision, how do new purchases are made, and the enterprise customer's requirements around information security, risk, and compliance requirements, and stepping through the legal process and pricing discussion.
Three (3) examples from my own experience:
Aplia

(higher ed/university market)

– The company founder was a well-known Stanford economist. He was able to land Virginia Tech as an early customer. From there, we leveraged this in every sales call and presentation.

Altos Research

(real estate & housing data)

– The company founder worked closed the first 50 customers on his cell phone, working from a coffee shop, by calling inbound leads. From there, I simply shadowed him and then ramped the process from there.

Blend

(mortgage software)

– Working with the company founder, we leveraged a mutual relationship with a big enterprise executive with a time-senstive problem to push through the contracting process.
In all three cases, the company founder was the first and best salesperson, then we ratcheted up from the first customer the founders landed.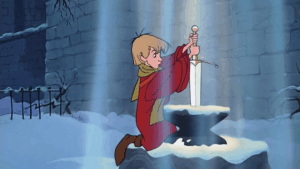 Having the first big customer is enormously valuable when you can say… "So [insert big company name] is an early customer. They use us to… "  I've been in this situation with three different startups, and sprinkling this magic pixie dust from first big customer is pure magic for the next round of sales conversations.
Have a Sales Question?
Grab a time to chat with Scott here.
Then apply what you've learned to the next 2-3 customers so that you can see where there are commonalities in the sales process. A repeatable sales process will start to reveal itself to you. Once you have the first 3-4 customers, or even as your working through the sales process of the next 2-3 customers, then you're ready to find a salesperson+ person.
What's a salesperson+?
A salesperson+ someone that is:
Experienced with enterprise sales with startup products…

Plus… might be your first VP of Sales.

Plus… handlex many of the non-sales "stuff" that needs to happen – building early marketing, short white papers, blogging, and presenting at conferences.

Plus… contributes to product development because she knows how to listen to customer feature requests and respond with: "Let me talk with the team about how that fits into our product roadmap…" instead of committing to meeting every request.
Once your salesperson+ gets you to roughly ~10 customers, then you can start building out a sales team.
Jason M. Lemkin alludes to the SDR/AE/CSR complex that established companies eventually build. This construct needs to develop organically to meet your customers and market. You can't build a sales organization before you know how your sales process works – i.e. what problem you're solving, who you're selling to, why your customers buy from you, when to take action and maintain control of the next steps, and where you are in the sales process.
** Note: My answer assumes that you want or need to eventually hire a sales team instead of continuing past the first few customers. This is very different from the Yammer/Slack model of gaining user penetration then eventually selling into the larger enterprise.
**This Q&A article was originally posted on Quora. Check out Scott's Quora page here.